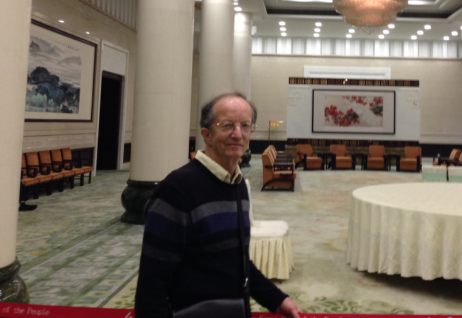 Michael poses a photo in the Great Hall of the People Guangdong Hall. [Photo provided to chinadaily.com.cn]
Over twenty years ago my wife first took me back to China to visit her family. As we got off the train a tremendous feeling of being at home swept over me. This different culture with its welcoming, friendly people grabbed me like an envelope that has remained with me ever since.
We have recently returned, from our over twelve trips back, this time visiting Beijing and other areas using the fabulous fast train. I of course have seen many documentaries -we have Chinese TV- and read many articles about the Great Wall and Forbidden City but to stand in these magnificent buildings, to see how they were built and to understand more of the Chinese culture, history and traditions, no words I write would do them justice.
Finishing our visit to the Forbidden City our Chinese friends took us to a restaurant nearby. Very busy, everyone talking at once, all trying to get served at once (which I love about China) then up steep narrow stairs to the crowded second floor. Grab a table, go and order, almost one minute later eating a hot bowl of Beijing style noodles with extras.
We have been very fortunate, often being taken to lunch in top hotels and restaurants in China, but what I really love is to sit outside in a small side street eatery enjoying the smells, the noise, watching the people walking by while eating a bowl of steaming noodles with a pair of wooden chopsticks from a paper packet, sitting on a well-worn plastic stool.
Each time we go back l have a list of places we wish to visit that I have written down after watching Chinese travel shows, each time we visit a few, each time my love of the Chinese people's culture, traditions and lifestyles calls me back to learn more. My only hope is that time will not run out.
The author is nearly seventy years old, worked as an accountant and now has his own business recycling electronic waste.
The opinions expressed here are those of the writer and don't represent views of China Daily website.