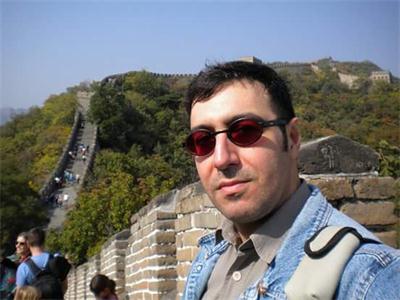 Christos, who comes from Athen, the captical of Greece, poses for a photo on the Great Wall. [Photo provided to chinadaily.com.cn]
A trip to China has been a dream of mine for many, many years. Maybe I am romantic, I don't know, but my heart always pulled me towards China, to one day travel there and more specifically to the city of Beijing.
It has not been so easy to finally fulfill this dream, but no good thing is easy to get. The time came, in October 2015, when this trip would finally be a reality.
It was a long road that took me to the International airport of Beijing, very early in the morning, still night and dark, before dawn. The rising of the sun found me in a taxi moving its way into the great city of Beijing.
I looked outside of the window as though hypnotized. Not able to realize yet that I finally made it there. My eyes went up to the sky. The thick morning haze made the Sun appear a deep red color, making it look like a drawing on the sky.
I was very impressed by the politeness of the Chinese people. I could see in their eyes, for example in small mini markets that I was late in an evening, that they wanted to speak with me and learn more about me, but communication was a serious problem, since we did not speak each other's language and most of them did not feel confident enough to speak in English.
I was impressed by a much older woman who approached me, who could handle English rather well, and started giving me advice about where to go and where not to, after also feeling curious about where I was coming from. It was one more incident which made me feel very welcome in this country.
The distances were huge and even after reading travel information about Beijing, the reality of moving in the city surpassed it. My city, Athens, was in my mind like a village compared to the vast space that Beijing expands into.
I stayed for about a week and food was something else that I also enjoyed, since I also went to places that only the Chinese go. On one of my days there, I went to the Great Wall. As I stood on it, I took a big breath of the refreshing air of the North and with my eyes staring towards outside of it I realized of how lucky I was to fulfill this dream of mine.
Some unpleasant experiences, like the heavy pollution for a couple of days, did not stop me from wanting to return, one day, back to China.
To this specific city, Beijing, and, why not, to more cities of China, as I am pretty sure they have many more different experiences to offer me. Part of my heart was left in China and when I come back my heart will be whole again.
If you want to share with us your experiences in China during the past year, please join us and you will have a chance to win a Kindle.
The opinions expressed here are those of the writer and don't represent views of China Daily website.