When I began working from home, it was not a choice, but a compromise. I had met with a road accident not once but twice within four months and therefore had to quit my full time job as a journalist.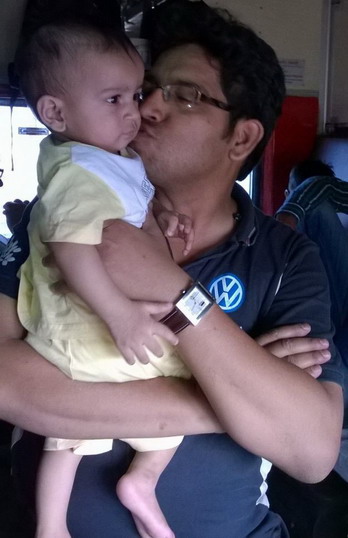 The author and his son.[Provided to chinadaily.com.cn]
My wife Shabina, who is also a journalist, had landed a good job opportunity of leading the city supplement of a newspaper. Both of us were each other's only support system.
During that period, she got pregnant with our first child. But yes with my support we did manage to sail through her pregnancy and on September 16, 2014 our beloved son came into our lives in the city of joy - Kolkata, my wife's hometown.
After having spent 40 days of her postpartum period in her maternal home we were back in Jaipur, with a new challenge facing us. The challenge being of bringing up a child and supporting a working wife, who had to resume her work immediately.
The job of being a full-time hands-on father was both a challenging and daunting task for me, especially because, in India, the concept of a caretaker daddy is alien.
For eight months, while doing stories from home, I fed Yahya (the name of my son), changed his diapers, went for his vaccinations with my wife, pacified him when he cried and remained awake when he cried in the night (which he did on rare occasions). I was completely okay with all this arrangement. My ego wasn't dented, rather I enjoyed every moment that I spent with my son, every moment that I saw him grow.
He gets comfort in my lap, recognizes my voice. My daily routine moves according to his activities each particular day. I had even prepared several rhymes for him too. Time started flying.
My family, both immediate and extended, were supportive. My uncle, aunt, mother and sister chipped in to support me too. And needless to say, my wife also supported and took care of Yahya when she was home.
Unlike many countries, India is a male-dominated country and conservative when it comes to such situations. Many looked down on me, thinking that I was being a lesser man and that I shouldn't be doing what I was doing. Some smirked at me for being a stay-at-home dad.
But I was happy that life gave me an opportunity to be with my son, so I grabbed it with both hands. Because, the true happiness one gets while caring for a child, remains with him or her forever.
But, freelance work during that time had its limitations, and soon I had not much work, so I had to look for full time jobs. I got China Daily's offer and after four months of confusion about whether or not to leave Yahya, I acceptedit in April.
When I took my flight to China, when I was leaving Yahya for the first time in eight months, I had spent more time with him than his mother. And the only regret I had was that I was not being able to bring my son with me. The time I had spent with him was the happiest time of my life.
The author is now an editor with China Daily.