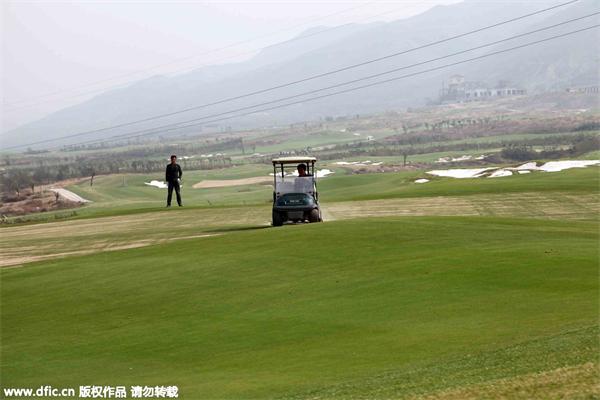 A golf course in Shanxi province, North China. [Photo/IC]
A China Central Television report recently revealed that two illegal golf courses in Shanxi province, North China, are still in operation although they were ordered to cease operations amid the country's campaign to shut down such illegal facilities.
China has issued several bans on the construction of new golf courses since 2004, but the number of courses nationwide has increased from 170 a decade ago to more than 600 today, many of which have not gone through the normal approval procedures. In July last year, multiple State agencies issued a joint document stating the construction of new golf courses was prohibited and illegal ones would be demolished. It set June 30 this year as the deadline for rectification.
For a long time, the construction of golf courses in China has not been because of an unbridled passion for the sport, but because of multiple economic incentives and corruption. In the years when GDP was used as a leading measurement of officials' performances, golf courses were regarded as an effective means of securing good evaluation, given that their construction not only attracts investment and helps drive the local economy, it also pushes up the prices of surrounding land, which in turn increases local governments' land sales revenues.
The spawning of golf courses is not only a waste of China's limited land and water resources, it also exacerbates the pressures on the environment. This is seriously against the country's efforts to establish a green economy and sustainable GDP.
A thorough probe should be conducted and a severe blow must be dealt to violators, especially if corruption is involved.
The above is an abridgement of a People's Daily article published on Monday.