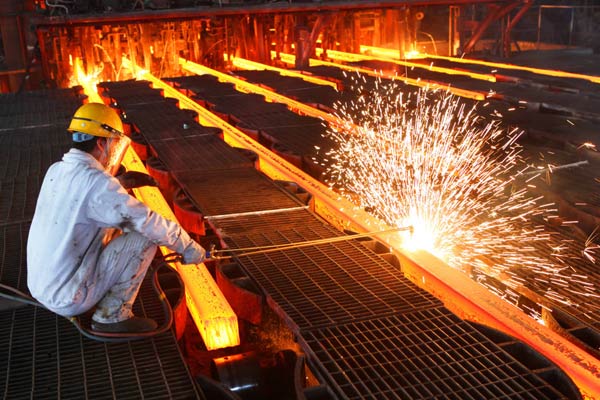 A worker cuts steel bars on the production line of a mill in Lianyungang, Jiangsu province. Si Wei / For China Daily
The first-quarter 7 percent economic growth year-on-year, although the lowest level since the first quarter of 2009, is still within the range of the government's reasonable growth expectations and thus should not cause excessive concern.
A country with a big economic base like China will inevitably experience a slowdown in growth. China's economic aggregate was more than $10 trillion last year, and such an economic size means that growth by one percentage point will bring an additional value equivalent to that created by growth of two percentage points in 2009. After decades of fast economic growth at the expense of the environment, China is now determined not to continue with the past high-input, resources-consuming extensive growth model any more. An intensive and cleaner growth model will unavoidably lead to economic deceleration before the new drivers of innovation and consumption come fully into play. At the same time, the lackluster external market amid deep adjustments and struggling recovery has also negatively affected China's foreign trade.
From a global perspective, the 7 percent growth is still an impressive performance, especially for the world's second-largest economy. To double its GPD by 2020 from the 2012 level, a 7 percent growth rate is enough if it can continue into the years ahead.
The strong resilience of China's economy will help it prevent risks. The rising enthusiasm among the Chinese public for business startups and innovation and the country's steady efforts to advance industrialization, urbanization, and agricultural modernization, along with its vigorous efforts to promote the Belt and Road Initiative, as well as coordinated development among Beijing, Tianjin and Hebei province and the Yangtze River economic belt, will inject a new vigor into its economy.
The ongoing efforts to transform its growth model, adjust its economic structure and deep reforms have slowed China's economy, but the deceleration means the economy will be healthier.
The above is an abridgement of a People's Daily editorial on Friday