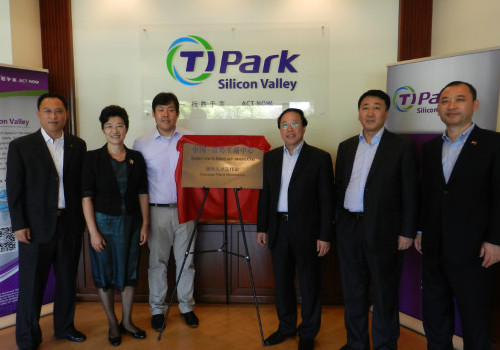 The Qingdao delegation signed a cooperative agreement with THTI Holding to set up an overseas skills workstation in Silicon Valley to introduce and train overseas experts.
In a routine annual meeting with foreign experts working in China, Premier Li Keqiang promised an engaging "soft environment" at home for overseas talents.
The thresholds for introduction of foreign talents will be lowered, the formalities for investing in and starting businesses will be simplified, Chinese "green cards" will be made more accessible, and all procedures will be more transparent, he said. All for one purpose: To turn China into a favored land of opportunities for talents of all varieties.
Such an invitation is timely. For China, never before has the need for extra brainpower appeared so real and imperative.
As the conspicuous slowdown becomes a hallmark of the country's economic new normal, structural reforms and transformation of the growth mode have increasingly been embraced as the proper approaches to upgrading the quality of growth.
As labor costs surge and environmental woes worsen, low-end, labor-intensive and environment-unfriendly manufacturing is becoming increasingly out of sync with new needs.
An "upgraded version" of the economy, which has been on official agenda for quite a while, however, will not come out of nowhere. Without the support of a sizeable pool of talents, much of the country's dream of becoming a powerhouse of innovation can only be wishful thinking. Li and his colleagues know that fairly well.
Like opening-up to overseas capital, technology and management know-how in the past more than three decades, opening its arms wider to overseas talents will greatly facilitate the country's drive to improve its innovative capabilities.
Given its rich experiences from the more than 30 years of opening-up and exchanges with the outside world, this country should be able to do better when it comes to attracting overseas talents.
Generous rewards will surely be attractive. But equally important is the "soft environment" Li mentioned.
Yet, that is the most difficult part of the job. The government has come up with numerous programs to attract talents, and disbursed generously to sponsor their work. The outcomes have been less than impressive. One of the most frequently mentioned causes has been the "environment" for innovation.
That is a vague allegation that may sound ungrateful. But it would be sad if complaints about counterproductive management mechanisms remain unsettled or keep emerging.