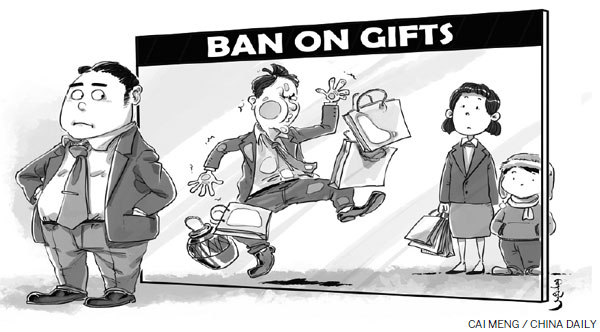 With the Spring Festival approaching, the central authorities have again warned officials to desist from corruption. The discipline inspectors have warned officials against taking gifts or money during the holiday, or face immediate removal from office and investigation according to the Party's discipline and the country's laws.
Usually, holidays and festivals see an increase in bribery. According to media reports, in less than two years since the central leadership's announcement that officials need to follow the rules to reduce bureaucratism and practise austerity to maintain close ties with the public, receiving gifts and money during holidays, weddings and funerals have been the fourth most serious form of corruption and more than 5,000 officials have been pulled up for it. Many corrupt officials have admitted that their first step toward graft was taking gifts or money during holidays or festivals.
Holiday or festival gifts (which include cash) have always been used as an excuse to cover up corruption. Festivals and special social events are still important for Chinese people, and giving and receiving gifts during such occasions are a common practice in China, which many officials use as a pretext to take bribes.
In 2011, the Nanjing Gulou District People's Procuratorate and Nanjing University Institute for Crime Prevention and Control jointly interviewed 150 corrupt officials in prison, and 76 percent of them said they assumed that receiving gifts or cash vouchers during holidays was an acceptable social behavior. In fact, many more corrupt officials have used the cover of such social convention to receive bribes.
Since it is difficult to distinguish between festival gifts that are actually bribes and those that are not, strictly prohibiting officials from receiving any gift or money is the best way to prevent corruption.