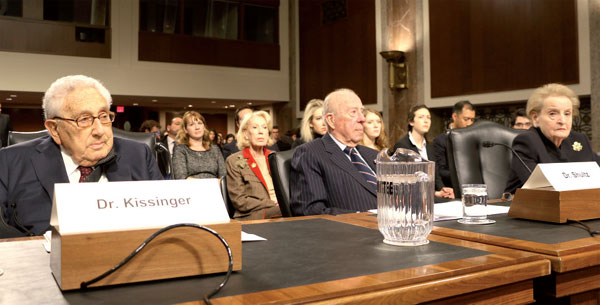 From left: Former US Secretaries of State Henry Kissinger, George Shultz and Madeleine Albright testify before the US Senate Armed Services Committee on Thursday about global challenges and US national security strategy. Chen Weihua / China Daily
The US national debt clock near Times Square was ticking in the $16-trillion range when I left New York two years ago. On Tuesday, it had crossed $18.102 trillion. This means that each of the 319 million Americans owes a debt of more than $56,000.
The US national debt was only $5.6 trillion in 2000; it crossed the $10-trillion mark in 2008. And since Sept 30, 2012, it has been climbing by about $2.38 billion a day.
I don't remember seeing such a glaring screen in Washington, where politicians are debating US President Barack Obama's $4 trillion record-breaking budget for 2016, including $585 billion in defense spending. While Obama has repeatedly claimed the US has ended the wars in Iraq and Afghanistan, the US defense budget request is 4 percent higher than the previous year, with Obama seeking more money to produce F-35 fighter jets, submarines, long-range bombers and missile defense systems.
The US' monstrous defense spending is more than the combined amount of the next top 10 countries. But in Washington, the rhetoric has been that the US is facing threats from the Islamic State group, and Russia and China, a typical excuse for interest groups to hijack the defense budget and, along with it, the American people.
Early this week, US Deputy Defense Secretary Robert Work defended the increase in the defense budget saying that "our defense strategy will become brittle and more prone to breaking".
At a Jan 28 US congressional hearing, the group of joint chiefs presented their cases. Some said the US was falling behind its potential adversaries, while others complained the US now had the smallest air force ever. Of course, in 2012 we all heard former Republican presidential candidate Mitt Romney describe the US Navy as the smallest since 1917.
These are attempts to whitewash reality unless you think a Hellfire missile, which costs some $110,000 each, is the same as a bullet, or an F-35, which costs $140 million each, is the same as an amphibian floatplane used in World War II.