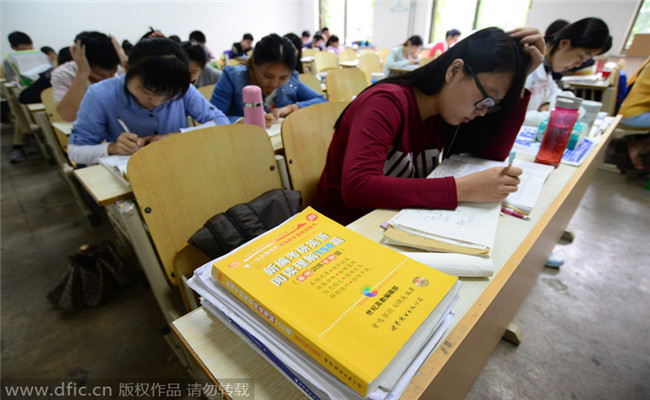 Students concentrate on studying in a classroom in Shandong Normal University, Oct 9.[Photo/IC]
It's the responsibility of society as a whole, especially teachers and the media, to ensure that juveniles' privacy rights are protected, says an article in China Youth Daily. Excerpts:
The content of a purported love letter written by primary school student to a fellow student has caught the attention of netizens after it was confiscated by a teacher and posted online. The student wrote: My love for you is like a bottomless pit. Although I am not handsome, I am good guy. And I may not follow you in person, but my heart is willing to follow you anywhere you go.
The teacher has gone beyond the accepted norms of what teachers are supposed to educate students about the pros and cons of life by posting the content of the letter on the Internet. To begin with, the teacher does not have the right to confiscate any student's letter, let alone post its content online, if it is not intended to harm others. The teacher, and media outlets that revealed the content of the letter, are under social and moral obligation to safeguard children's privacy and protect them from unnecessary exposure, because this is very important for the healthy development of children.
The public, on its part, should not encourage such irresponsible reporting, because it is aimed at sensationalizing an issue that violates children's rights and, more importantly, could harm the future of children.
The publication of such news, both in the print and on electronic media, is often seen as harmless but it inadvertently ends up otherwise. In this era of the Internet, many news stories are generated and produced by netizens, especially social media. But they must abide by the country's laws, and professional and moral ethics. The media, teachers and netizens should follow this principle when it comes to reporting, in particular, on children's affairs.