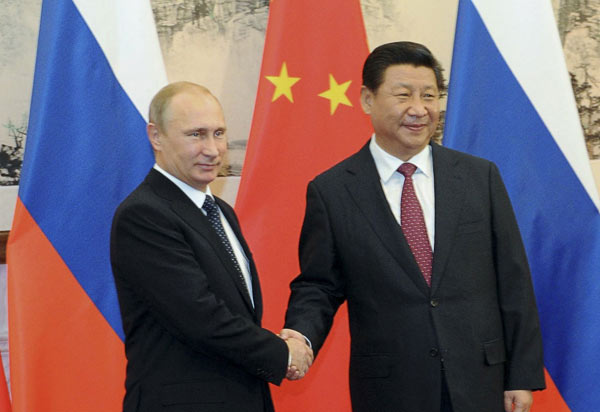 Russia's President Vladimir Putin (L) and Chinese President Xi Jinping pose for a photo ahead of a meeting in Beijing, Nov 9, 2014. [Photo/Agencies]
Russia faces a crisis because of the US-led Western sanctions for its alleged involvement in the Ukraine crisis. In these trying times, China could provide critical assistance to Russia and start the beginning of new type of partnership with its northern neighbor. China has to swing into action, because if Russia goes down under the weight of Western sanctions, China will be left alone to face the West's arm-twisting moves.
For decades, the United States and its Western allies have used the threat of sanctions and other punitive measures to browbeat other countries into accepting their policies and conditions, economic or otherwise. And if Beijing remains a spectator as the West has its way with Russia it could pave the way for the West to train its guns on China.
Many Chinese scholars have cited the rugged relationship between China and Russia over the past 100 years to say that their interests have rarely met. China signed three separate alliance treaties with Russia (and the Soviet Union) in 1896, 1923 and 1937 when Japan posed a threat to both, but none of them worked. Unfortunately, even the alliance treaty in 1950 - between New China and the Soviet Union - broke down extracting huge political and economic costs on both sides.
But the fact that many Russian (and dozens of other) scholars have recognized that the breakdown of the Moscow-Beijing alliance was the biggest diplomatic disaster in Russia's history, shows that China and Russia are natural friends in international relations.
Whenever they have faced a common threat, they have banded together to deal with it. The reason the alliances did not work out according to expectations was because China and Russia (or the Soviet Union) were not equal partners. As a weak partner, China many a time felt slighted in the relationship. And the stronger partner, the Soviet Union tended to believe that it was justified in occasionally having the dominant view.
But China's rise has made Beijing and Moscow equally important players on the world stage today. Since China is no longer a weak nation expecting Russia to rescue it from some trouble or the other, the two sides can become truly equal partners in an alliance.
Sino-Russians relations are already complementary and mutually beneficial, and if Moscow and Beijing work together in a closer partnership, they can only increase mutual benefits and deepen mutual trust.
Therefore, the Chinese government should start talks with Russian leaders to see how it can help Moscow to tide over the current difficulties. This could form the basis of a long-term alliance, because Russians will appreciate the assistance rendered by China in their hour of need, just like Chinese still thank Russia for its help in the past.
The author is a professor at Warren Wilson College, North Carolina, US, and guest professor at Hebei University, China.