Take relax among gold ginko leaves
By Yang Fan ( chinadaily.com.cn )
2015-10-19
Daguan Park
As the largest park in central Kunming, Daguan Park has a 50-meter-long a road where gingkoes grow on both sides. A 20 yuan ticket will allow access to magnificent views of the park's buildings, lakes and trees.
Address: Daguan Road No 72, Xishan District, Kunming
Transportation: Bus 100, 22 and 4.
Chenggong Campus of Yunnan Normal University
Residents of Chenggong district needn't travel downtown to enjoy gingko scenery. A visit to Yunnan Normal University' Chenggong campus can provide a wonderful (and free) day trip. The campus offers relaxing surroundings and features roads line with gingko trees.
Address: Chenggonglian Street
Transportation: Subway line 1 and 2; Bus 170, 219 and 216.
Xihua Park
Open free to the public, visitors to Xihua Park can pitch a tent for the day, stretch on the lawn and have a picnic to enjoy the serene and colorful view.
Transportation: Bus 4, 80, 95, 183, 203, and 233.
Yunnan University
The gingko roads at Yunnan University are notably famous in Kunming. Between late autumn and early winter, a great number of residents will be attracted to the golden leaves. Here, they can find students and photography enthusiasts hanging out under the gingko trees.
Transportation: Bus 115, 55 and 22.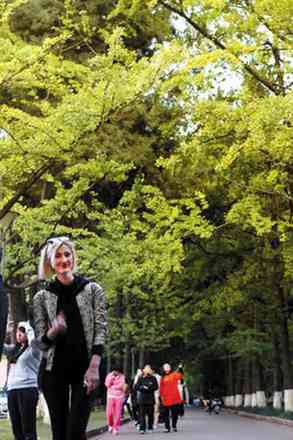 People walk along the gingko road in Yunnan University. [Photo/kunming.cn]
Edited by Jacob Hooson
Copyright © 2015 China Daily . All Rights Reserved Sponsored by Kunming Municipal Government . Presented by China Daily .