Take relax among gold ginko leaves
By Yang Fan ( chinadaily.com.cn )
2015-10-19
Gingko leaves have begun to turn yellow in Kunming, as the autumn weather takes hold. The trees have proved to be a popular backdrop for people taking photographs in the city. Here are some of the best places to experience the vivid gingko leaves:
Kunming Botanical Garden
The garden is located 12 kilometers away from central Kunming and features a road with gingko and maple trees on both sides. For just 10 yuan ($ 1.58), visitors can enjoy the spectacular mix of red and yellow leaves.
Transportation: Bus 128, 100 and 9.
Jinguang Road
Featuring European-style architecture with gingko trees dotted between buildings, Jinguang Road offers an exotic view, as leaves turn golden in autumn.
Transportation: Take Bus 160 at Xiaoximen stop.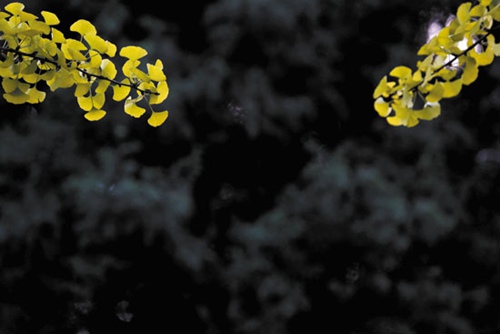 Gingko leaves are turning yellow in Yunnan province. [Photo/kunming.cn]
Copyright © 2015 China Daily . All Rights Reserved Sponsored by Kunming Municipal Government . Presented by China Daily .