Kunming takes flight
By Zhang Zhao and Li Yingqing ( China Daily )
2015-03-19
City emerging as frequent destination for international travelers
When Yunnan Airport Group attended its first Routes Asia meeting in 2008, representatives introduced the capital city Kunming and its airport, but the question they heard most from foreign delegates was, "Where is Kunming?"
Seven years later, they have their answer.
The city now has an emerging international airport in Southwest China, serves as a regional hub linking China with South Asia and Southeast Asia and is the host city of Routes Asia 2015, a gathering for aviation-related companies that want to conduct business to, from and within the region.
Over the intervening years, the Yunnan Airport Group has integrated the resources of airports across the province, improved the Kunming airport capabilities and planned new international air routes.
The company won a marketing prize last March for airports in the Asia-Pacific region that handle more than 20 million passengers a year.
This year's Routes Asia will provide opportunities for the company to "weave a denser network of international flights", said Zhou Kai, chairman of the group.
"The forum will also boost airport economy," Zhou said. "The airport is no longer seen as just infrastructure. It can integrate with many industries and resources."
The event "will also showcase the distinct culture and natural beauty of Yunnan, a paradise for tourists", said company president Tang Xuefan.
"The world's aviation companies will understand Yunnan's demands and find their own. And we in turn will learn from the world."
The aviation business in Yunnan dates back to 1922 when Wujiaba Airport in Kunming became the second in the nation. It was closed in 2012 and replaced by Changshui Airport.
Thanks to the new airport's independent dual-runway design and large terminal, its handling capacity increased from 34 flights an hour to 46. The growth of passenger numbers ranked No 2 among the world's top 100 airports in 2013, and growth in cargo ranked first.
The province now has more than 360 air routes to 137 cities in China and overseas managed by 47 airline companies. Last year, airports in Yunnan handled more than 44 million passengers and 340,000 metric tons of cargo on 390,000 flights.
Geographic position
Tang also noted Yunnan's "advanced geographic position".
Kunming Changshui Airport is along the air path from Southeast Asia to Russia and from Hong Kong, Macao and Taiwan to Europe, the Middle East and Africa.
Domestic air routes from Kunming now cover all provincial capital cities in China. The entire region of South Asia, Southeast Asia and West Asia is within a five-hour range from Kunming, while it takes only two hours to Bangkok, Vientiane, Chiang Mai, Hanoi and Phnom Penh.
In addition, the province has "one national-level airport, three mid-sized and five small airports", Tang said.
"And another three airports are under construction, including one expected to start operation this year."
Last December, China Eastern Airlines inaugurated its flight from Kunming to Paris, the first intercontinental route from the city.
Kunming has long-standing close relations with France. In 1903, French engineers built the first cross-border railroad in the country linking Kunming and Haiphong in Vietnam. Today Paris is the most popular destination for international departures from Kunming.
The city plans to also develop routes to Australia, North America and Africa.
Kunming Changshui Airport ranked as the seventh-busiest airport nationwide in 2014 in flights, passengers and cargo, and the 50th in the world.
Provincial government plans call for the world ranking to rise to 30th by 2020 when Yunnan will have at least 410 air routes handling 100 million passengers and 600,000 tons of cargo a year.
Flights from Kunming will reach the capital cities of all 10 Southeast Asian nations and seven South Asian nations by 2017, along with a number of popular tourist destinations, said Zhang Weijian, deputy chief of the provincial aviation administration, at a recent press conference.
The authority will establish funds to support some key international flights to aid in the expansion over the next three years.
Kunming began offering a 72-hour visa-free policy last year that allows passengers from 51 countries to spend three days in the city if they have valid third-country visas and onward flight tickets.
The government will also introduce more preferential policies such as bonded jet fuel and airline subsidies.
Contact the writers at liyingqing@chinadaily.com.cn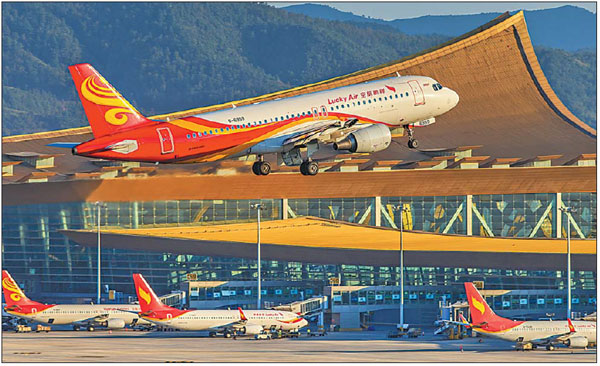 The Kunming Changshui International Airport is the seventh-busiest airport in China with the most rapidly growing number of passengers. Li Zhe / For China Daily
Copyright © 2015 China Daily . All Rights Reserved Sponsored by Kunming Municipal Government . Presented by China Daily .