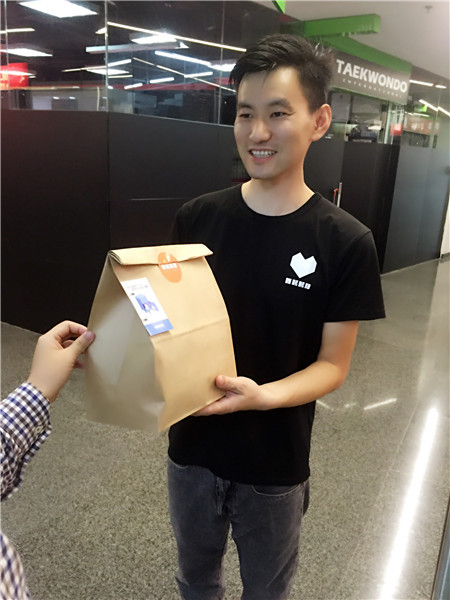 A Need Nutrition staff member delivers food to a Beijing office. [Photo provided to China Daily]
She said most of those using the service around her are females, perhaps because they are more sensitive to body image and health and are more particular about food quality.
Many men she knows who go to the gym regularly buy chicken salad from convenience stores, she added.
While most of the calorie-control meals are fusion or Western-style, 700Kcal, established last year, provides a variety of calorie-controlled cuisines, including Thai and Caribbean food.
Its outlets in Beijing sell such meals, and it plans to open branches in other cities, including Zhengzhou, Henan province; Zhuhai, Guangdong province; and Chongqing.
Tino, chief operation officer with 700Kcal, said the company not only has a wide following among individual buyers, but also sells products at some eateries, because it has a sterile central kitchen to produce standardized products.
Liu Yajie, a cardiovascular disease specialist in Guangzhou, said he welcomes the popularity of such delivery services, because healthy eating is important to prevent many chronic diseases.
However, he warned that since these services often provide such dishes as salad and water-boiled meat, customers should make sure that the services are providing clean, safe food with cold-chain logistics. Otherwise, he said, pathogens such as E. coli, which can cause diarrhea, can easily reproduce.
Contact the writer at liuzhihua@chinadaily.com.cn