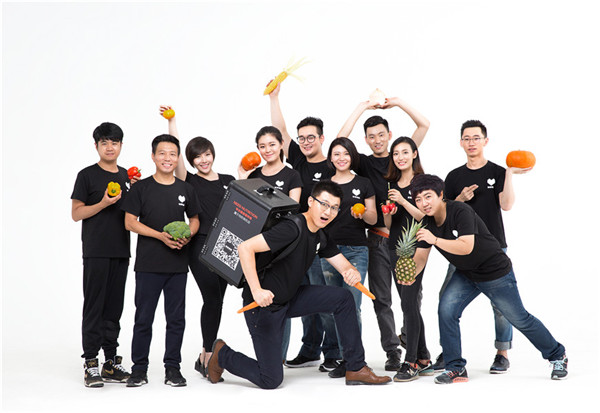 Staff members from food delivery service Need Nutrition in Beijing gather for a promotional image for healthy eating.[Photo provided to China Daily]
Wei said he founded the startup as soon as he noticed, from his own experience and that of his friends, an unmet food delivery demand for regular gym-goers who want to eat healthily but cannot cook for themselves.
The company launched a week-based lunch menu in April that was designed by nutritionists and senior chefs from hotels. The menu is updated regularly with seasonal ingredients.
Although the service has a loyal following of just a few hundred people, its client base is growing quickly and steadily without any marketing activity, relying mainly on word of mouth, Wei said.
About 40 percent of first-timers eventually become regular clients, he added.
Many of the online-to-offline services are available through WeChat and apps.
Sweetie Salad, a pioneer in the field, claims to have more than 1 million followers on WeChat.
Yu Wenlu, also known as Vivian, a co-founder and chief marketing officer for Sweetie Salad, said the company was created in 2014 after its founders noticed a craving among people for delivery of healthy food, and it has enjoyed rapid growth ever since. The company has more than 170 staff members and has also established a branch in Shanghai.