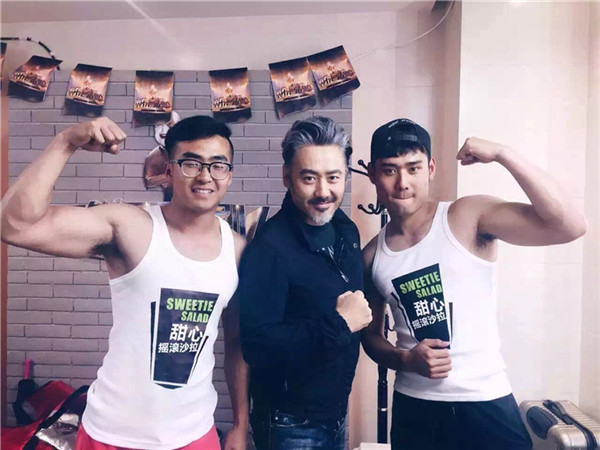 Actor Wu Xiubo (center) joins a promotional event with people from Sweetie Salad. [Photo provided to China Daily]
Yu is confident of a strong market, saying that people are increasingly aware of healthy eating.
About 70 percent of Sweetie Salad customers are females, and the customers are young-about 90 percent are between 20 to 40 years old, and 60 percent are people ages 20 to 30, Yu said.
About 60 percent of customers are Sweetie Salad regulars, and many buy more than 10 times a year, which amounts to more than 2,000 yuan ($300), Yu said.
The company has also launched an online shopping platform to sell what it calls "healthy food", such as muesli, dried fruits, herbal tea and oat biscuits.
Chen Na, an office worker in Beijing, said she and many of her friends and colleagues have tried a variety of such services, including those for gym-goers and dieters.
"I want to reduce fat and gain muscle to improve my body shape, and I know healthy eating, especially intake of enough high proteins and low calories, really matters for that purpose," Chen said.
"In the past, I had no choice but to dine out in eateries around the office, and I'm glad there are new choices for me to stay fit and healthy now, with these healthy food delivery services."
The food at restaurants around the office usually is not healthy enough, Chen said, because it has too much oil and salt. She added that she needs few carbohydrates but rich protein to maintain a steady basal metabolic rate.
Another reason she orders the takeout is because the food is delivered to her office and so is very convenient to eat.
Chen's first experience with such eating was a salad brand, at the recommendation of a colleague in July last year who was a regular customer of that brand.
She ordered the salad on and off for lunch for a long time. It usually contained vegetables, fruits, white meat such as chicken breast and fish, and sometimes grains.
Chen said she enjoyed both the taste and the nutrition, but is always open to new options.
Her recent favorite was a five-day-a-week takeout menu from a local kitchen. The service features breakfast, lunch, dinner and a snack for a day's consumption each workday, and it also includes a fitness exercise video.
Having such takeout food also gives her psychological satisfaction because she proactively manages her eating habits and lifestyle. Additionally, it motivates her to exercise more passionately, partly because the service can be expensive, Chen said.