They don't make things like they used to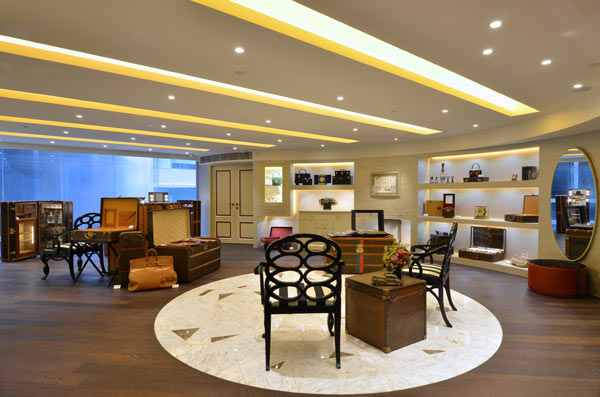 Bernardini Luxury Vintage's shop in Central, Hong Kong.
An innovative new retail concept is taking vintage luxury items and repurposing them for modern use. Kitty Go reports from what may be the world's chicest recycling boutique in Hong Kong.
There is a Broadway tune titled Everything Old is New Again which could summarize the many ways vintage objects get "a new lease on life". With a retail concept not yet experienced in Asia and rarely seen in the West, seasoned retailer and successful fashion e-tailer Adrienne Ma is breathing a second life into collectibles. Think 1950s-Louis Vuitton cases turned mahjong set holders or iPod docks, Goyard suitcases becoming dressing tables or portable whiskey bars (hanging against a wall, no less) or rock crystal from a 1930s chandelier that formerly hung in the palace of an Italian nobleman now dangling as a glamorous handbag hook.
Clearly this is way beyond your typical expensive, specialty vintage boutique. Ma is CEO of Bernardini Luxury Vintage, a pioneering retail concept in Asia in partnership with the Milanese luxury vintage boutique.
"The reason I opened something like this is I really appreciate the beauty of these pieces," says Ma with great enthusiasm and a twinkle in her eye. "I want to share it and I am confident that Asians will have the same ability to appreciate them as well. I am pioneering a retail concept as well as a trend … The fun part of this new venture is that we are taking an early stake in a new industry that is just warming up… Yes, there are vintage watches and antiques around but this format of modern or luxury vintage is not done yet … This is an alternative to the vintage and antique markets we see around the world."
If there is anyone who has literally lived with luxury in life and business, it has to be Ma, who devoted most of her career to luxury brands and boutiques in Asia and then set up Chinese e-tailer shouke.com, which she later sold to Net-a-porter. She has the ability to sniff a trend before the market even knows one is coming.
Related:
IMAX to launch $250,000 home theatres in China