Jeweler gets museum treatment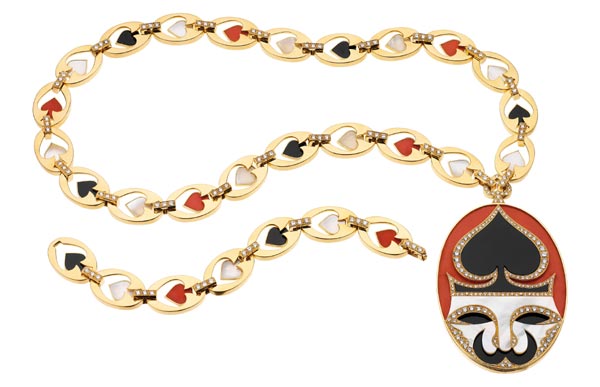 The playing card necklace. Photo provided to China Daily
Paying tribute to Bulgari's artistic contribution to design, the Fine Arts Museums of San Francisco displays The Art of Bulgari: La Dolce Vita & Beyond, 1950-1990 through Feb 17.
On show are about 150 exhibits, showcasing the glamour of the 129-year-old jewelry house.
"This is the first time Bulgari has been shown in an American museum, which shows that it is an interesting enough jeweler for a museum to treat its products over the years as works of art and fine examples of design," says Martin Chapman, curator in charge of European decorative arts and sculpture of the museum.
Chapman worked closely with Bulgari's historic consultant, Rome-based Amanda Triossi, who helped develop the company's archives while she was researching her first book on Bulgari in 1994.
A key element shown is Bulgari's departure from traditional jewelry design. "Moving away from the popular Parisian style of the '60s, Bulgari struck out in a new direction with bold cabochon jewels, weightiness and a style rooted in its own Roman origins, such as the coin," says Chapman.
The house notably began to embrace colorful combinations of semiprecious and precious gemstones, heavy use of gold and forms derived from Greco-Roman classicism, the Italian Renaissance and the 19th-century Roman school of goldsmiths. Bulgari helped develop a look that would come to be known as the "Italian school" of jewelry design.
Related:
Seeing is believing: IMAX to launch $250,000 home theatres in China
Italian luxury brand's innovation in fur fashion