They don't make things like they used to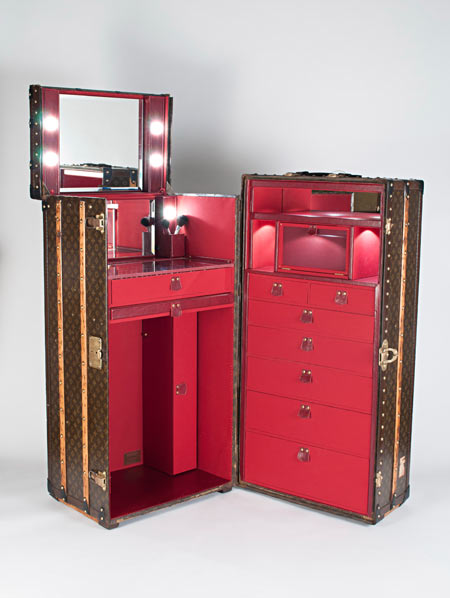 The 1950s LV monogram trunk customized as a vanity boudoir by Bernardini Luxury Vintage.
The first thing Ma wants to define is the term modern or luxury vintage. "Antiques are over a hundred years old and they are decorative things that you collect, store or display. Other than beauty and value, you can't really use them. There's hardly any functionality to them," she explains. "What we have are collectibles from 1900 to the 1980s. So we technically — and I am no historian — do not classify our merchandise as antiques yet."
Every piece in the boutique has to be functional. "When we choose anything, we have usage in mind. What can you do with LV trunks aside from using them as coffee or side tables? From trunks, cases, handbags, you name it, the way anything functions will complement and will be suitable to today's lifestyle," she emphasizes. But not everything that has a function makes the cut. She turned down a specially commissioned hand painted enamel cigarette case because it would not hold today's longer and fatter cigarettes.
For his personal use, Milan partner Max Bernardini fashioned a Valextra cabine traveling case to stylishly house his audio-visual equipment. Another great idea she turned down. "I thought that idea was very brave but I turned it down because I suspect, with me as an example, Asians tend to have a lot of AV equipment and they want the newest ones. Europeans have simpler and more basic tastes when it comes to AV. With us, by the time you hook everything up, you will need a wardrobe trunk! I always consider the functionality's feasibility to and habits of the local market."
Another unique selling point is that all merchandise is in excellent condition and meets today's quality standards. Tiffany champagne glasses from 1910 sparkle like new. A Rolex from 1939 tells "the correct, present" time. A 1950s Hermes Birkin looks just the right side of used. "It's not that we just brush them up or completely remake them into mint condition. Asian customers, like myself, while they appreciate history, don't like things too beat up," Ma says.
Related:
IMAX to launch $250,000 home theatres in China