Tech art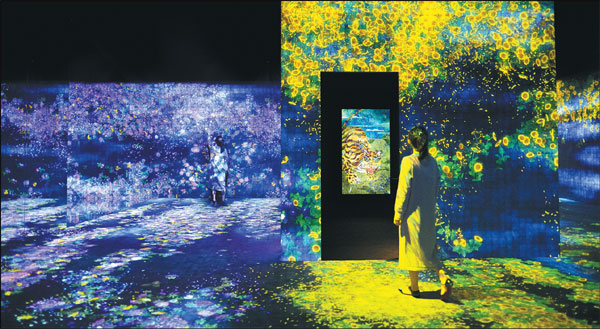 Takashi Kudo, the communications director at teamLab, says technology is not "super important" to their output, although it is the core medium of their work.
He says what matters a lot is the experience of people in finding different ways to communicate with the world.
The digital installations of teamLab have evolved in terms of imagination and technical details, as their previous exhibitions in the United States and Europe have shown.
The collective is among international groups whose interdisciplinary endeavors have created immersive environment at exhibitions and reshaped people's viewing experiences. And, some such works have been introduced to the Chinese audience in recent times.
"We believe teamLab represents an important development in contemporary art. They work as an art collective. Their media is technology in the form of digital language," says Peter Boris, executive vice-president of Pace Gallery who presented the first teamLab exhibition at Pace in New York three years ago.
"Like every serious artist of every age, their goal is to discover and then to express the living reality of its time."
Boris currently works to develop Pace Art + Technology, a program in collaboration with interdisciplinary art groups to explore the confluence of art and technology. The program involves Random International, a 20-person team in London and Berlin acclaimed for the large-scale, location-specific installation, Rain Room.
The work creates an environment of torrential rain and it will stop falling when it detects people walking into it. Its first Asian show was held in Shanghai in 2015.
Shanghai also held James Turrell: Immersive Light from January to May, the China debut of the prominent US artist whose light installations left the audience wondering about different perceptions.
But the rise in such immersive shows has also led to discussions on whether they can be viewed as art.
Xian Zhuoheng, a visitor in Beijing who frequents contemporary art shows, says technology and interdisciplinary efforts have enriched the definition of "artwork".
"Immersive work, like other forms of art, is a presentation based on individual experience of artists. It's vivid, interactive and brings art closer to people. And it doesn't lack in depth of expression."
Boris from Pace says the current exhibition marks "the close of a cycle of growth for teamLab" and it gives people the clues to the future of their works.
Inoko says his team wants to create an even bigger work - turning a part of a city or natural environment into an exhibition space to display their works.