Tech art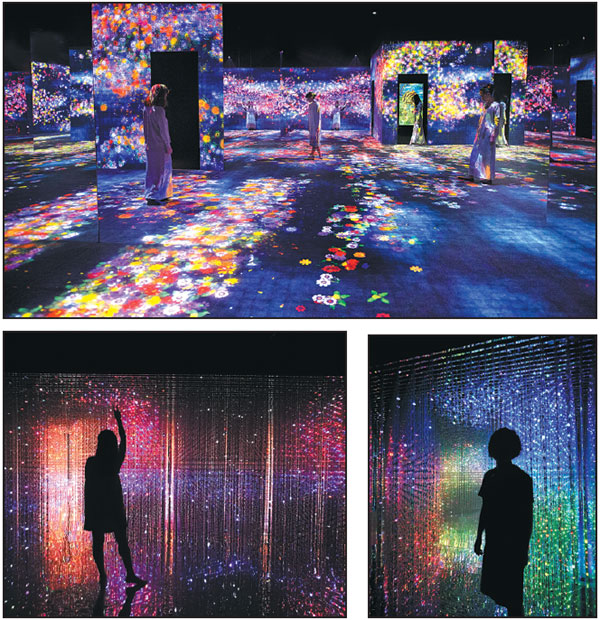 Visitors experience the interactive digital installations at the show teamLab: Living Digital Forest and Future Park in Beijing.[Photos Provided to China Daily]
Tokyo-based group that brings engineers and artists together for global projects makes China debut with interactive exhibition. Lin Qi reports.
It is one of the largest interdisciplinary art collectives in the world. Since it was founded by Toshiyuki Inoko in Tokyo in 2001, teamLab has gathered some 400 professionals from various fields, including artists, engineers, animators, architects and mathematicians.
Calling themselves "ultra-technologists", they have created installations of light and sound, mixing art and technology that have enthralled the audiences.
The collective works in groups on different projects around the world.
Their digital installations are now shown at exhibitions in seven cities of different countries, including the China debut exhibition, teamLab: Living Digital Forest and Future Park, at Pace Gallery's space in Beijing.
One is Flower Forest: Lost, Immersed and Reborn, which is taking up the bulk of Pace Beijing's space of 1,500 square meters. The gallery has been associated with them since 2014.
In this work, a computer program renders real-time images of thousands of flowers in the four seasons - blossoming and withering. They are projected on the floor, the walls and panels of mirrors to create a dynamic garden, with the audience actually inside it rather than looking at it from outside.
The work is interactive: When people touch the flowers or "step" on them, the petals fall and fade away.
Another work, also created by them earlier this year, is displayed in a separate room in the Beijing gallery.
Computer-generated images on LED screens surround viewers from all sides, narrating the adventure of eight crows that chase each other, scatter and finally turn into flowers. The music for this work, by Hideaki Takahashi, adds dramatic tension and grandeur to it.
"People have to utilize their bodies and open up their senses to experience the environment of the exhibition. The lives of a flower, a leaf and a crow look splendid but also slightly sad," says Fu Lang, a visitor and a Beijing resident.
"Diverse presentations of the process from glamorous living to a sorrowful death make the installations interesting."
Inoko, who studied science at the University of Tokyo, says the exhibition aims to make the audience feel that time and space have disappeared, by absorbing people into the environment.
He says people have been empowered by advanced technology, and they try to "draw a clear line between them and the world". Such work tends to blur the boundary.
"I hope people can understand that the world is not all about the information they get from media such as TV programs and social networking services. I hope people can feel the world with their minds and bodies," says the 40-year-old artist.