Exhibitions help forge closer cultural links between HK and mainland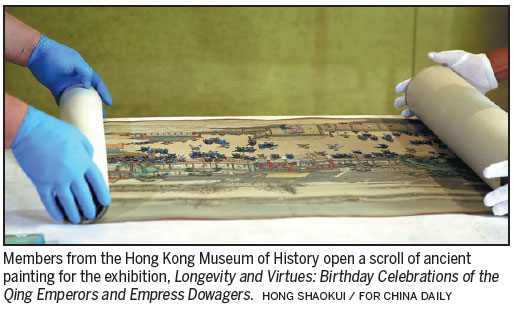 The ongoing exhibition on the Hall of Mental Cultivation in Hong Kong is just one sign of the deepening links between the Palace Museum in Beijing and Hong Kong.
Separately, another major exhibition on Chinese royal rituals, Longevity and Virtues: Birthday Celebrations of the Qing Emperors and Empress Dowagers, is on at the Hong Kong Museum of History.
And in a related development, the Hong Kong Palace Museum, to be set up in the West Kowloon Cultural District, will become a permanent venue to display Chinese royal treasures in 2022.
In 2012, Beijing's Palace Museum signed an agreement with Hong Kong's Leisure and Cultural Services Department to regularly hold exhibitions in Hong Kong.
Exhibitions from Beijing have typically done very well in Hong Kong, and according to LCSD statistics, the four concluded exhibitions, which were brought to Hong Kong by the Palace Museum since then, attracted half a million visitors.
"Hong Kong is an international cultural metropolis with a distinct identity grounded in Chinese tradition," says Cheung Kin-chung, the chief secretary for administration in Hong Kong.
"By presenting the invaluable collections of the Palace Museum and its rich history, these highly acclaimed exhibitions have strengthened our cultural ties."