Perfecting the art of murder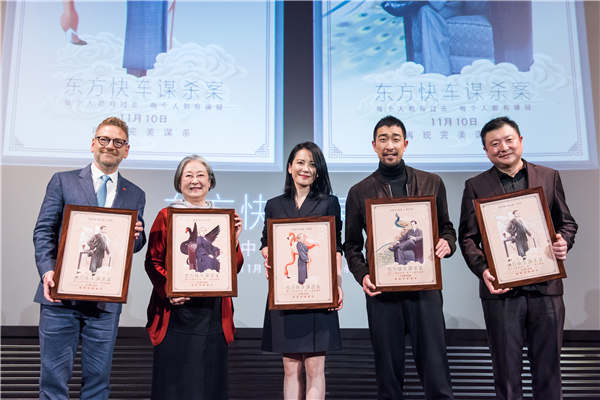 Branagh with members for the Mandarin-dubbed version, including actor Wang Qianyuan (second right) and actress Yu Feihong (center) alongside voiceover artists Cao Lei (second left) and Liu Feng (right). [Photo provided to China Daily]
Explaining how he got around this problem, he says: "I directed the stage play Romeo and Juliet starring Lily James last year. Everyone knows what happens to Romeo and Juliet. But what matters is how you do it.
"I thought we could change some elements at the beginning of the film and add several new characters (in Murder on the Orient Express)," he says.
"But what is crucial to the ending is a new twist, which Poirot calls the moral twist. Poirot is a man who says 'There is right. There is wrong. There is nothing in between.' But at the end of the story, he begins to consider whether there may be something in between," reveals Branagh.
In the new movie, the storyline keeps to the core of the original novel, in which the murdered man was once a ruthless criminal who ruined a family. But in the end, Poirot has some doubts about whether the multiple murderers should be punished for seeking justice in their own way.
The star-studded cast assembled for the movie includes big names like Johnny Depp, Dame Judi Dench, Penelope Cruz, Willem Dafoe, Lucy Boynton and Daisy Ridley.
Branagh says it was a nerve-wracking experience working with so many excellent actors, but the improvisation skills they brought to the movie were indispensable.
For instance, on one occasion Ridley forgot her lines during one scene shot with Poirot outside the train in the snow.
But Branagh did not seem to mind, and let her improvise the scene.
"As she did that, the look in her eyes was so vulnerable. I could really see her thinking. So it was really Daisy forgetting her lines, but it looks like Mary Debenham, the character, lying to Poirot," says the director, who is also known for a string of movies adapted from the works of Shakespeare.