Perfecting the art of murder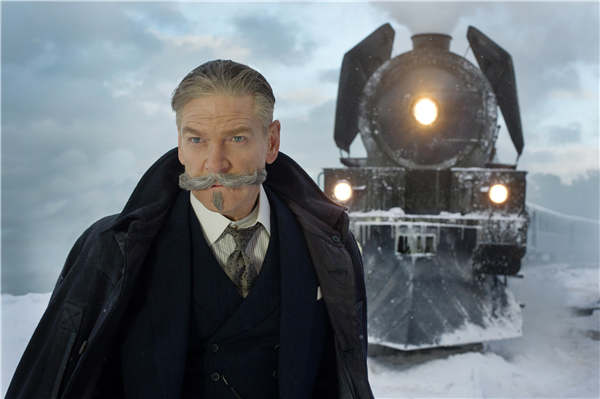 British director-actor Kenneth Branagh stars as Hercule Poirot in the upcoming movie Murder on the Orient Express. [Photo provided to China Daily]
The train in the movie, the Orient Express, is a long-distance luxury passenger train service that first started in 1883. Magnified by Christie's work, the train has enjoyed enduring popularity with travelers over the decades, and they continue to flock to discover the sumptuous compartments and first-rate service depicted in the novel.
Interestingly, room 411 at the Pera Palace Hotel in Istanbul-where Christie is supposed to have penned the novel-also remains a popular tourist spot.
Branagh, who has been a fan of Christie since his mystery-novel-loving mother put him onto the author's work, recalls his early impressions about the author's influence on theater.
"When I became an actor, I noticed that our local theaters would put on a production based on an Agatha Christie novel every three months or so. Then I began to realize how important she was in our culture," says Branagh.
Branagh began researching extensively to prepare for the movie a year ahead of the shoot, from reading all of Christie's novels about Poirot to revisiting the works of celebrated Belgians like the surrealist Rene Magritte and cartoonist Georges Prosper Remi, author of the Tintin series.
The 56-year-old director-actor even listened to recordings of 27 different Belgian accents by men of Poirot's age speaking in English. He met with a dialect coach three times a week to study and practice the character's accent.
As a famous novel which has been translated into around 45 languages and reprinted at least 10 times in China, most moviegoers are aware of the film's ending before they go to the cinema.