Perfecting the art of murder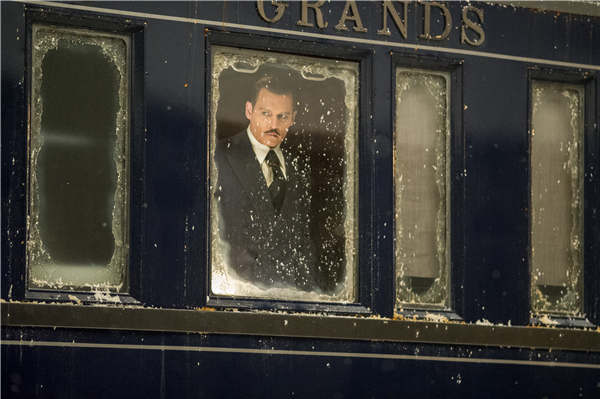 Johnny Depp stars in the new movie, Murder on the Orient Express, a remake of the 1974 movie adaptation of Agatha Christie's novel. [Photo provided to China Daily]
After the success of Dunkirk, Kenneth Branagh returns to Chinese cinemas with a remake of an Agatha Christie classic. Xu Fan reports.
Chinese viewers who struggle to remember foreign faces may find it difficult to accept that Commander Bolton in Christopher Nolan's Dunkirk is returning to the country's big screen in Murder on the Orient Express.
That's because this time, the actor who played Bolton sports an enormous moustache and speaks English with a heavy Belgian accent in his portrayal of the famous fictional detective, the creation of Agatha Christie, the prolific British writer dubbed the "Queen of Crime".
Kenneth Branagh, the award-winning British filmmaker and actor, was in Beijing to promote his upcoming directorial feature Murder on the Orient Express.
In the movie, which has been adapted from Christie's 1934 novel of the same name, Branagh will appear as Hercule Poirot.
Meanwhile, in addition to the subtitled English-language movie, Chinese audiences will be also able to watch a Mandarin-dubbed version, which will feature A-list actor Wang Qianyuan and actress Yu Feihong alongside veteran voiceover artists Cao Lei and Liu Feng, at Chinese theaters.
Speaking about his character in the movie-which will open across the Chinese mainland on Friday-the director-actor says that the Belgian detective appeared in 33 novels, around 50 short stories and one play between the 1920s and 1970s.
There was also the 1974 movie adaptation of Murder on the Orient Express, directed by Sidney Lumet, which garnered one award and five Oscar nominations
"I think it's a classic story that needs to be retold. It needs to be heard and seen again. I think the meaning changes according to different times," says Branagh, explaining the reason behind the remake.
"Our goal was to make a cinematic experience to take the audience on the train from Jerusalem to Istanbul …and take them on a visual journey through Europe," he adds.