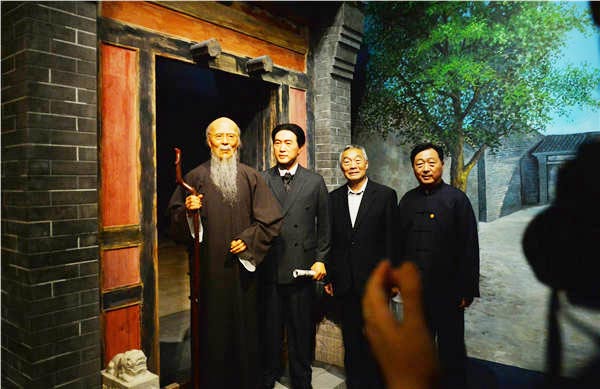 Xu Qingping (second right), son of Xu Beihong, and Lyu Zhangshen (right), director of National Museumof China, pose with wax figures of Qi Baishi (left) and Xu Beihong. Provided to China Daily
With great attention, Shu Ji, 83, observes a life-size wax statue of Peking Opera guru Mei Lanfang (1894-1961). The figure is clad in a blue satin changpao, or traditional Chinese long gown for men, and a black satin magua, a riding jacket. It has a Chinese folding fan in its right hand while the left hand is behind its back.
The attire is similar as what Mei wore for his meeting with Charlie Chaplin in 1930, in Los Angeles, one of the six US cities that Mei and his Peking Opera troupe toured.
"I remember his face as being smaller and rounder. And his hands were more like a woman's. I shook his hand once and his skin felt rather fine and smooth," says Shu, the daughter of Lao She (1899-1966), the pseudonym of noted Chinese novelist and dramatist Shu Qingchun who befriended Mei.
Shu was speaking to the staff of the National Museum of China during a preview of the Beijing museum's new wax gallery on May 24. Her father is also among the 35 culturally important people of 20th century China whose wax models are on display at NMC's south wing.
Dozens of family members were invited to the preview and for a final check of the completed figures. Their feedback will help the staff fine-tune the display before the gallery is officially opened to visitors in early June.
Chen Lyusheng, the museum's deputy director, says NMC needed to finalize security measures and the ticket price before the opening.
The museum launched in 2011 the wax gallery project to pay tribute to modern Chinese intellectuals. The final lineup has celebrities from three areas - guoxue or studies of Chinese cultural traditions, literature and arts - since the New Culture Movement of the 1910s and the 1920s.
No living personality is included, and the most recent chosen to be featured is Ba Jin, the author, who died in 2005.
Chen says that although the world has many wax museums, a great majority of them are commercial and oriented for entertainment.
He says the NMC gallery is unique because it "offers a historical perspective, drawing public attention to the inheritance of cultural traditions and the humanistic spirit of 20th-century China".