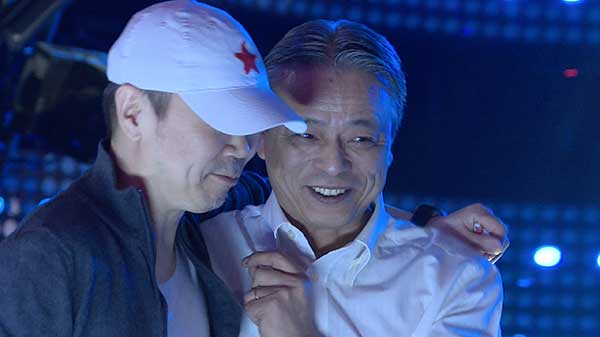 Yang Le (right) with his friend and singer-songwriter Cui Jian during a rock show.[Photo provided to China Daily]
Chinese singer-songwriter Yang Le is not a fan of fame.
The popularity he gained following his performances on reality TV show China Star, aired by Dragon TV since November, has made him very uncomfortable.
The performances of his original songs are widely available on the internet. He sings about his current life and is reflective of his past. Yang's distinctive music, in a style of vocal storytelling or even murmuring while playing the guitar, catapulted the 60-year-old to folk and rock stardom.
Stardom's effects, however, make him uneasy.
"I have to lower my head while walking on streets. When I have dinner with friends, I have to sit in a room, rather than the public space," he says.
But he does enjoy the feedback from audiences, which has surprised him.
"If my lyrics can influence some people and change their lives, it is great," Yang says.
Yang now receives many performance invitations, and he will join in the upcoming Changjiang International Music Festival, which will be held on Saturday and Sunday in Zhenjiang, Jiangsu province. He said "yes" to that because it's a chance to collaborate with an old friend, the established Chinese rock singer-songwriter Cui Jian, on the second day of the festival.
In their 40-minute performance, they will perform some of Yang's songs from China Star, as well as new works from an upcoming album they recorded together.
It was Cui who pushed Yang to participate in the TV show. As Cui says, "It was a pity that Yang and his music couldn't be heard by audiences. Such great songs should be left for generations."
As for the new album, which will come out later this year, Yang says he has been discussing it with Cui for years and it's Cui who insists on releasing it.
"Cui says we should do it and let people listen to this kind of music. We use very simple instruments to make each song. If a song contains too much decoration, such as special effects and computer programming, it's not a confident song. The hardest thing is to sing a song with only the human voice," Yang says.