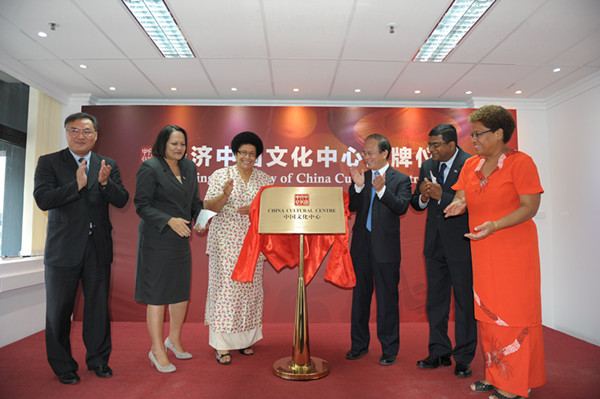 Guests unveil the name plate of the center at the opening ceremony [Photo/ China Daily]
The China Culture Center opened in Fiji's capital, Suva, last week.
The opening coincides with the 40th anniversary of the establishment of Sino-Fijian diplomatic relations.
The center serves to expand interest in Chinese culture and history among people in Fiji and neighboring South Pacific islands.
Chinese musicians performed traditional music at the opening ceremony. The center is hosting an exhibition of Chinese New Year woodcut paintings until Feb 28.
China has established culture centers abroad since the 1980s. They organize programs on Chinese art and language, and host academic seminars. Their libraries contain books about various dimensions of China.
The centers have proliferated over the past decade. There are 24 around the world, in such cities as Cairo, Tokyo and Berlin.