The year 2015 is almost coming to an end. With less than two weeks remaining, let us recap some of the major events that occurred in China's showbiz in the year of the Sheep.
Making a clean breast of it
The buzz over the cuts of the actresses' corseted cleavages in the TV drama The Saga of Wu Zetian attracted attention at home and abroad.
Numerous international media outlets, including The New York Times, Wall Street Journal and The Daily Mail, reported on the heated chatter in the Chinese media and blogosphere about how the top-rated domestic TV drama The Empress of China, also known as The Saga of Wu Zetian, was halted after its first week of release for "technical reasons", then released again five days later.
When the 80-episode TV serial returned to the screen on the first day of 2015 after the abrupt suspension, scenes featuring actresses' low-cut dresses and corseted cleavages had been cut and replaced by close-up shots of just their pretty faces.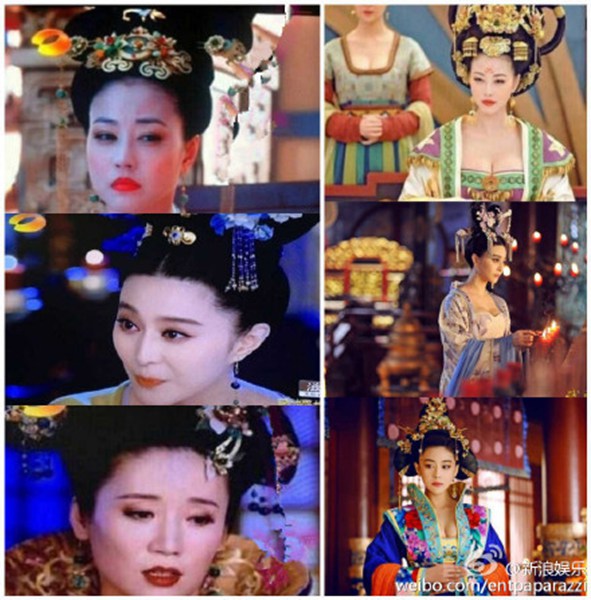 Screen shots after the show resumed broadcasting, left, and before it was taken off air, right. [Photo/Weibo]
A series of "before and after" screen captures of the drama shows that even the Chinese emperor Li Shimin's face had been cut in an "after" scene, when he was leaning his head against the empress' ample breasts.
It has been widely speculated that the nation's highest broadcasting regulator had asked for the cuts because the women's costumes were too revealing.
When the series aired in Hong Kong, actresses' cleavages were not cut, but covered up with tube-top like attire, added through editing techniques.
Sina Weibo, China's equivalent of Twitter, found that nearly 95 percent of viewers disapproved of the cuts, calling them "unnecessary".
Related:
Sexy TV drama returns more sedate
In photos: Fan Bingbing stars as 'Empress of China'