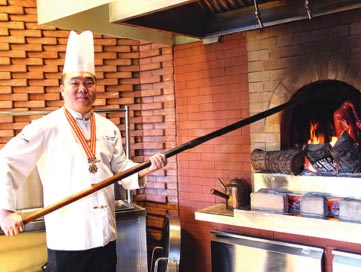 A chef makes Peking roast duck at a Beijing restaurant. It is a signature dish of the capital. [Photo provided to China Daily]
The World Association of Chinese Cuisine, a trade organization for China's catering industry, has changed its name to the World Federation of the Chinese Catering Industry to highlight its focus on promoting Chinese cuisine around the world.
"Food has no borders, and it is one of the most important things in people's lives," says Yang Liu, chairperson of the federation. "Chinese cuisine has long been an important part of our culture.
"As the Chinese economy grows and people's lives improve, our government is paying more attention to the development and promotion of Chinese cuisine around the world."
In the first 10 months of 2015, the total revenue of the catering industry in China exceeded 2,624 billion yuan ($405.5 billion), with a yearly growth of 11.8 percent.
Also, more than 100 Chinese restaurant companies have established branches overseas. Meanwhile, there are more than 400,000 Chinese restaurants outside China, 50,000 of which are in the United States, according to Yang.
However, as Chinese catering companies going abroad lack international marketing and legal talent, most Chinese restaurants abroad are small and not good at business management and brand-building, Yang says.
Since its foundation in 1991, the organization has initiated a series of events to promote Chinese cuisine, such as inviting foreigners to traditional Chinese dinners on the eve of the Spring Festival.
With more than 500 corporate and institute members in more than 40 countries and regions, the federation will continue and increase efforts to promote Chinese cuisine, Yang told a media conference recently.
In the future, the federation will provide Chinese catering companies with more services, such as foreign-market research, legal training, supply management and resource integration. It also aims to make Chinese cuisine mainstream in foreign societies through publicity, culinary events and online training.
In February, the federation will cooperate with the Chinese Ministry of Culture to take traditional Spring Festival Eve dinners to Spain to showcase contemporary Chinese family values and culinary culture.
Next September, the federation will hold the eighth World Competition of Chinese Cuisine, and about 100 teams from different countries and regions will compete in the top Chinese cuisine competition, which has been held once every four years worldwide since 1992. There will also be exhibitions, forums and master lectures on Chinese cuisine during the competition for those interested in Chinese cuisine.
At the media event, the federation signed a long-term cooperation agreement with Nankai University in Tianjin to launch a global online training program on Chinese cuisine.
Related:
Jiangsu's dried bean curd packed with history and taste
Lower Manhattan: Carousel, shopping, French food, light show