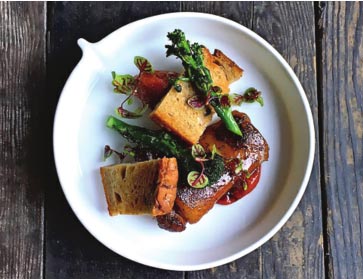 [Photo provided to China Daily]
Boxing Day is a holiday that Brits (and ex-colonials) celebrated in the old days by giving servants and tradesmen gifts, known as "Christmas boxes", on Dec 26. Since one doesn't really have servants to reward these days, now one goes shopping-for up to a week in much of the United Kingdom. In Shanghai, however, you can savor the occasion with this Boxing Day sandwich, a beautifully crafted presentation of honey ham and tomato marmalade with potato bread. It's one of the set courses offered all month (so no need to wait until Saturday to enjoy it) at The Commune Social. The complete menu includes scallop ceviche, hot smoked salmon, torched mackerel and cauliflower, cider-brined turkey leg with barbecue cranberry sauce, and mushrooms on toast with bacon jam, plus assorted desserts. Three courses cost 258 yuan ($40); four courses are 298 yuan; and five courses are 338 yuan.
511 Jiangning Road, Jingan district, Shanghai. 021-6047-7638.
Related: