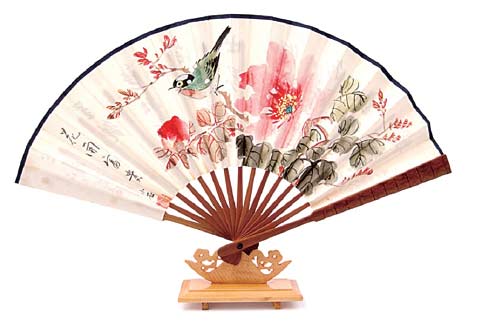 Ornate folding fans bear eye-catching designs. Photo provided to Shanghai Star
The humble hand-held fan began life in the service of ancient rulers, keeping the sun, sand and wind off their royal visage. Wang Ying looks at its history.
China has been making fans for more than 3,000 years and although there is no evidence that this was the birthplace of the fan, craftsmen here have developed sophisticated manufacturing techniques through thousands of years.
Li Yun Ge is a brand that draws inspiration from China's long history of fan making. Standing along the famous Yuyuan Old Street in Shanghai's Yu Garden or Temple of the City Gods, Li Yun Ge — literally "Colorful Cloud Pavilion" — is one of the city's oldest fan distributors.
The brand was founded in 1888, or the 14th year of Emperor Guangxu's reign in the Qing dynasty (1644-1911). Li Yun Ge sells all kinds of fans made in Suzhou and Hangzhou, two cities famous for their fans and it also provides a tailored service for customers. According to history books, the fan was invented during the Shang dynasty (from 16th century to 11th century BC).
Its main function was for rulers to fend o6 scorching sunshine, wind and sand. Nowadays, sunglasses, masks, and umbrellas have replaced these functions, and fans are used more for decoration.
The spice of variety
"In our store we offer silk fans and sandalwood fans for women, and fans with paintings for men, as well as a wide variety of fan ribs to choose from," says Li Ying, manager of the Development Department of the Shanghai Yuyuan Old Street Commercial Management Co Ltd.
According to Li, foldable fans for women are one of their best sellers. The fans, priced from 35 yuan to 188 yuan ($5.60-$30.25), are very popular among both local customers and foreign tourists. "The 98-yuan cotton-hemp fans launched last year, for example, sell extremely well among young women," Li says.
These hemp fans are circular shaped, similar to Japanese fans. The fans with simple flower prints are one of this year's hits. In addition to young female customers, visitors from Southeast Asia and Japan also love these fans, Li adds. Compared to similar products sold overseas, these fans are delicate and better made, and sell at a lower price.