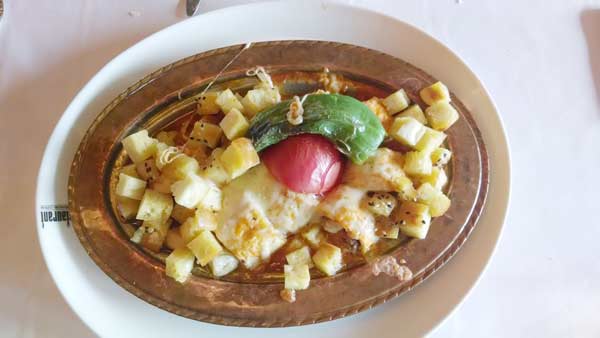 Sultan sarma highlights the main dishes. Photos by Bidisha Bagchi / For China Daily
The Ottoman Empire comes to life on the table at the unpretentious eatery Efes, Bidisha Bagchi reports in
Shanghai
.
Even though the decor has no touch of the Ottoman Empire - except the two evil-eye pendants that hang from one of the walls, the food at Efes Turkish & Mediterranean Cuisine Restaurant is both authentic and out of this world.
This regional cuisine is sometimes described as refined art, such is its diversity and richness. Meaty items like lamb, chicken and beef are stars, be they grilled or barbecued, and blends of common ingredients like coriander, cumin, mint and other spices make the fare distinctive.
We started our feast by ordering the "mezze", the starter platter that had both warm and cold options. Tzatziki or cacik (yogurt dip with cucumbers and olive oil), hummus (ground chick peas blended with olive oil, salt and garlic) and tahini (sesame-seed paste) were our complimentary starters. We had a large, soft and fluffy lavash bread, fresh-baked and satisfying. With it came three dips: chili garlic, mushroom sauce and tartar sauce.
From the soup list, we opted for the refreshing ezogelin, the traditional Turkish lentil soup. Our salad choice, gavurdagi, featured a delicious pomegranate sauce for the colorful greens and vegetables topped with herbs and nuts.