Israeli doctor Moris Topaz's ties with China have grown since a massive earthquake struck Sichuan in 2008, Liu Xiangrui reports.
Moris Topaz sees medicine as a unique link between China and his home country, Israel.
"This is the beauty about cooperation in medicine. It's never a one-time project, because we need to improve all the time," says Topaz, 66, who has maintained his relations with Chinese doctors with whom he has cooperated in the past. "We are a bridge between the two countries."
Topaz, who heads plastic surgery at Hadera's Hillel Yaffe Medical Center, a prestigious Israeli hospital, has dedicated decades to research. He has also served on the International Committee for Quality Assurance and Medical Technologies and Devices in Plastic Surgery, of which he was secretary-general.
In 2015, Topaz visited China on invitation from the government, and traveled to Taiyuan, capital of North China's Shanxi province, which has since become a "base" for him in the country. His local colleagues at a hospital helped him to know more about China, even though he cannot speak Mandarin.
"We speak the same professional language of medicine and surgery. This way we can bridge a lot of verbal gaps and make friends everywhere," he says.
In 2008, Topaz had volunteered to help those injured in a massive earthquake that hit Southwest China's Sichuan province after learning about the natural disaster in the news back home. He soon arrived in Deyang, among the worst-affected areas, and worked for days along with an army unit overseeing rescue and relief work there.
He also donated medical devices and medicines worth 100,000 yuan to a local hospital. He revisited the area during the later stages of relief work to train local medical professionals with advanced wound-healing methods. He was impressed by how the government was able to rebuild the whole area with hospitals and other facilities just a year later.
"That was a very difficult situation at the time. I think the entire world can learn from China about how to deal with this kind of crisis," he says of the aftermath of the 8-magnitude quake.
His involvement also allowed Topaz to establish close ties with the People's Hospital in Deyang.
Topaz has visited Deyang many times to teach and help doctors there in the past years. Chinese doctors from the hospital were also invited to his medical center to study with Israeli experts.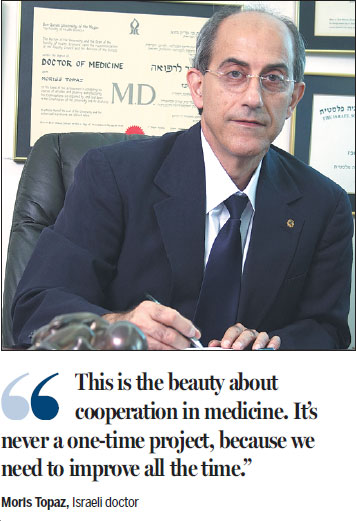 Thanks to his help, the hospital has expanded its burns and plastic surgery department. It now has dozens of doctors and nurses, from an original count of two doctors.
Topaz has also brought in the latest in medical technology from Israel, including TopCloser, a groundbreaking method for closing large wounds. The method can reduce the complexity of such injuries and shorten the duration of a surgery. It also allows a wound to heal faster and reduces the aftereffects.
Since the method was first used during the earthquake relief in 2008, it has been adopted by more than 150 hospitals in Sichuan, helping many injured people recover relatively quickly.
"I see it as a mission (to promote the method), because it would substantially change medicine globally," he says.
Topaz now returns to China on a monthly basis as his organization has expanded its collaboration with more medical institutions in the country. He usually stays for about one week during each visit. Modern technology has made communication between him and his Chinese colleagues easier, he says.
When he is in Israel, he uses WeChat, a popular Chinese phone app, to exchange ideas with Chinese doctors. His colleagues from here also frequently consult with him by sending him photos of patients' wounds, and he guides them on surgeries by making illustrations.
Topaz's dedication has been recognized by authorities here.
In 2009, he was given the Friendship Award, the highest honor given by the Chinese government to foreigners who have made significant contributions to the country's social and economic development.
Besides his own activities in China, Topaz has tried to bring in more support. For example, he introduced his colleague Meir Oren, a former CEO of Hillel Yaffe, to China so that their organization could establish deeper collaborations with Chinese hospitals and expand them to fields like emergency preparedness.
In the past years, many Chinese doctors from quite a few partner hospitals have received training at their center in Israel and delegations of Israeli doctors have also visited China.
In the eyes of Topaz, the cooperation with China is both a process of sharing and learning. "This is for the benefit of both countries," he says. "We can use this as a tool to improve Sino-Israeli relations. If I now look back, I can say we have achieved a lot."
Contact the writer at liuxiangrui@chinadaily.com.cn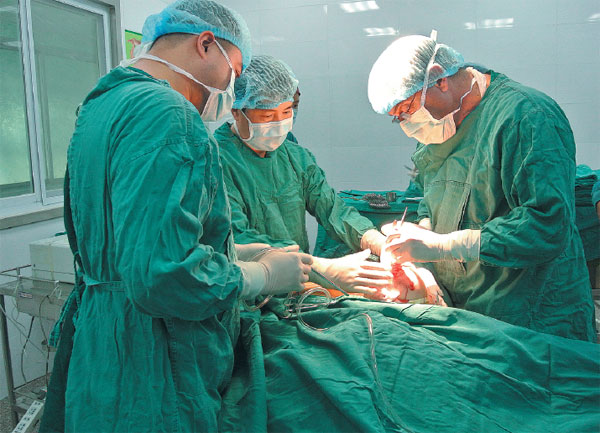 Dr Moris Topaz (right) joins the rescue work in Deyang, Sichuan province, during the earthquake in 2008. Photos Provided To China Daily