Textile park tackles poverty in Kashgar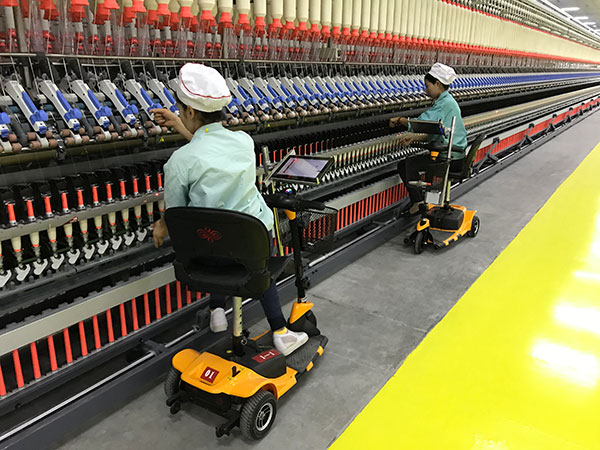 Employees test the production line in a factory at the Shule Ruyi Hi-Tech Textile Industrial Park.[Yang Qinghua/for China Daily]
Long-term project
The head of Ruyi Group's Xinjiang Ruyi Textile Garment Co, Zhou Hongrun, who is responsible for the operation of the company's Shule project, said: "The equipment we use at the plant is considered state of the art in the textile sector. We bought most of it from Germany, Italy and Switzerland."
He said the industrial park involves a total investment of 1.5 billion yuan.
When the entire production line is put into use, it is expected to produce 250,000 spindles of high-quality yarn a year and provide jobs for 1,200 people, 80 percent of whom are from the Uygur ethnic group. The company enjoys preferential policies on tax, use of land and infrastructure from local governments.
Zhou is optimistic about the industrial park and views it as a long-term project.
"The yarn produced at Shule can be used at the textile base built by Ruyi Group in Pakistan," said Zhou, adding that the Pakistan base is scheduled to be completed by 2020.
"By investing in Xinjiang, Ruyi Group not only gains economic benefits, but it creates social benefits," he said.
The company has trained 150 Uygur people in modern textile skills in Shule, and in addition to building plants, the company extends its production line to villagers' homes.
Ruyi Group has provided 50 sock-making machines for 12 families in the fifth village of Baheqi town since June as part of a pilot project. The group plans to provide sock-making machines for 108 families in the village.
Aytuersun manages four machines that were installed in her two-story house in June.
"My job is monitoring whether the machines work well and checking if the socks the machines make have flaws," Aytuersun said.
The 22-year-old works on the first floor and lives with her parents on the second floor. The two-story house was built by the Shandong government as a pilot project to restore dilapidated houses.