Textile park tackles poverty in Kashgar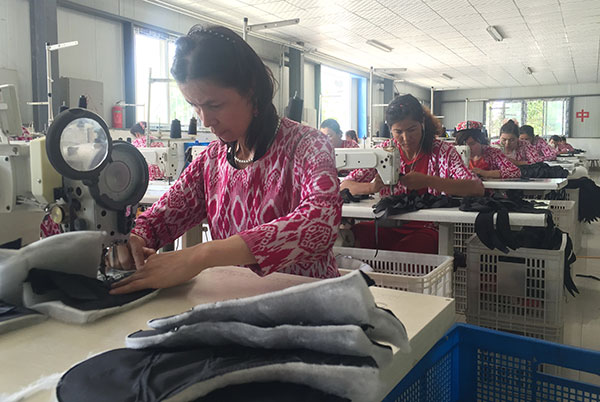 Workers make gloves at a workshop invested in by Jining Zhongxing Garments in Kashgar, Xinjiang Uygur autonomous region.[Zhao Ruixue/China Daily]
Shandong government introduced 74 projects in three years to provide jobs and promote development of remote areas
Around 6 kilometers from the urban area of Shule county, Kashgar, one of the least-developed areas in Northwest China's Xinjiang Uygur autonomous region, is home to a textile industrial park.
With modern facilities such as spacious plants and solar powered street lamps, it stands out on an otherwise vacant expanse of land.
Inside a plant at the Shule Ruyi Hi-Tech Textile Industrial Park, a project invested in by Ruyi Group, which is based in Jining, Shandong province, dozens of workers fine-tune the automatic production line, preparing for the official start of production, which is scheduled for this month.
"I have spent two months learning how to manage the production line. It is totally automatic. What I need to do is to keep a close eye on an iPad, which shows whether the machines are working correctly," said Tuhangul Musa, a female worker at the park.
The 24-year-old worked in a local textile and garment company for two years before taking her current job.
"I am looking forward to working at such a spacious and clean plant," Tuhangul said.
After passing a three-month probationary period, she will sign a contract with the company, and get a salary of around 2,500 yuan ($370) a month. Her husband is also working at the textile park.