Island force keeps 'southern gate' safe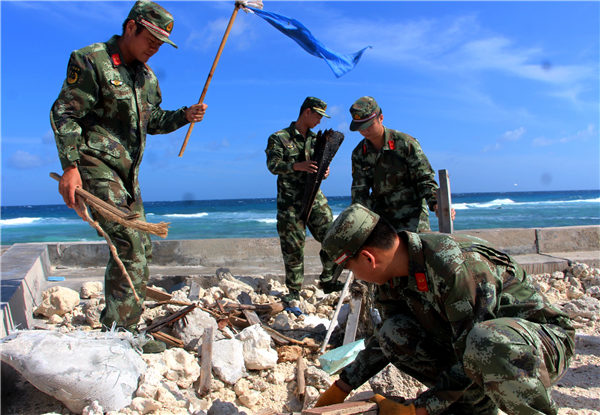 Frontier guards from the Chinese People's Armed Police collect seaborne debris on a beach on Yongxing Island, Hainan province, for treatment at the island's recycling plant.[Photo by LI MINGJIAN/CHINIA DAILY]
A small group of police officers is charged with ensuring the safety of a collection of outcrops, islands and reefs in the South China Sea. Zhang Zhihao reports from Sansha, Hainan province.
With palm trees, warm breezes and skies as blue as the sea, Sansha - a collection of islands, reefs and areas of ocean in the South China Sea which form China's southernmost prefecture-level city - seems like a tropical paradise.
Appearances can be deceptive, though, and for outsiders trouble and danger can emerge from the most unlikely places, even the water supply.
In 2014, two years after he arrived, Li Mingjian, a 34-year-old frontier guard on Yongxing Island - which acts as Sansha's administrative center - felt a sharp pain in his abdomen. When Li consulted a doctor, he was told that a kidney stone had become stuck in his ureter. The condition is a common one as a result of the high levels of salt in the local water, so the doctor advised Li to "drink plenty of bottled water and jump up and down to dislodge the stone".
The lack of fresh drinking water has long been a challenge for the frontier guards of the Chinese People's Armed Police on Yongxing, which covers about 3 square kilometers, making it the largest island in the Xisha archipelago.
"Sansha's islands share four highs: temperature, humidity, salinity and solar radiation, as well as a lack of soil and fresh water. But we have one thing in abundance: typhoons," said Huang Qingze, the political commissar for the PAP Sansha frontier defense division. "These are islands that try men's souls."
Founded in November 1959 as the Xisha Yongxing Police Force, the division adopted its current name in 2012, when Sansha was established. Now, the force polices more than 400 islands in the Xisha, Nansha and Zhongsha archipelagoes in the South China Sea, covering 2 million sq km of ocean, Huang said.
Since 2012, the division has inspected the travel documents of more than 16,000 people every year, and prevented more than 600 illegal visits.
The force has also deterred and investigated 142 illegal foreign fishing vessels and 1,350 fishermen, and has confiscated 4,860 kilograms of explosives, 1,000 primers and 560 meters of fuse, according to the division's records office.
The division's main duties are maintaining sovereignty and stability, protecting the environment and the local people, and assisting with the development of the local economy, according to Huang. "We are the Great Wall of the South China Sea," he said.
This year marks the fifth anniversary of the founding of Sansha. "In the future, we will work even more closely with the locals and carry out our duties meticulously to build a sovereign, beautiful and happy Sansha," he added.