Foreign field will forever be home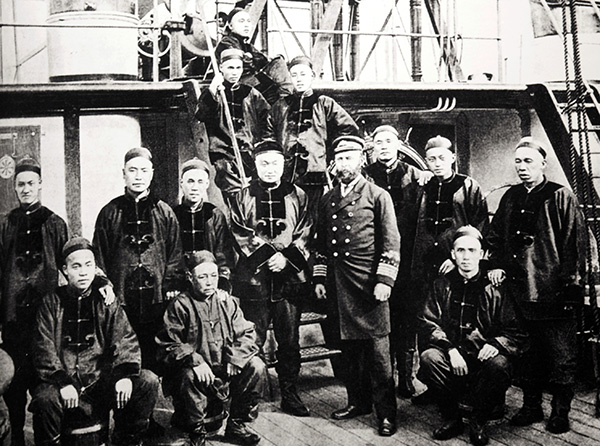 Crew members pose on the Zhiyuan, a warship purchased from Britain for the Beiyang Fleet. CHINA DAILY
Final preparations are underway for a project that will restore the graves of five Chinese sailors who died in the 1880s in Newcastle-upon-Tyne, a city in northeastern England.
Experts consider the tombs to be historical artifacts that mark the birth of the Beiyang or Northern Fleet, the most powerful naval force assembled by China during the Qing Dynasty (1644-1911), which was bolstered by four battle cruisers that China purchased from the United Kingdom between 1881 and 1887.
Located in St. John's Cemetery in the Elswick district of the city, the graves-three of which have collapsed and are half-sunken-contain the remains of Yuan Peifu, Gu Shizhong, Lian Jinyuan, Chen Shoufu and Chen Chengkui, members of the first two naval delegations that China sent to Europe.
The five men died from unidentified illnesses while waiting to bring the cruisers back to China to form the most powerful navy in Asia at the time, according to Chen Yue, president of the Chinese Naval Historical Institute, who specializes in studies of the period.
Despite its power, though, the fleet was defeated by Imperial Japan during the first Sino-Japanese War (1894-95), signaling the end of a modernization movement under the Qing and the start of Japanese colonialism across Northeast Asia.
Last year, photos of the cracked tombstones were posted online by a Chinese student at the Royal College of Art in London and quickly attracted the attention of the China Foundation for Cultural Heritage Conservation, a nonprofit organization.
In December, the foundation launched its first global crowdfunding campaign with the aim of raising 460,000 yuan ($67,000) to pay for the restoration work, according to Li Xiaojie, the foundation's president. The campaign is ongoing.
The Chinese government spends about 8 billion yuan every year on the protection of relics, but most of the projects are in China, he added.
The tombstones in Newcastle-Upon-Tyne are Chinese landmarks overseas, and as such are of great historical value, according to Chen Yue, president of the Chinese Naval Historical Institute: "They are rare historical artifacts of the Qing's modernization movement and Chinese naval history in general."