Spring Festival travelers stock up on homemade treats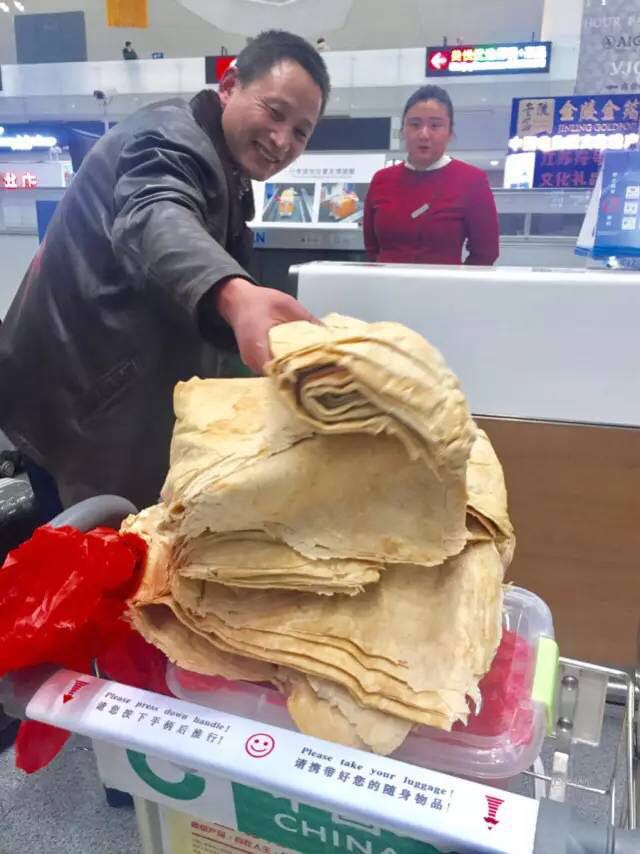 A man checks in with a pile of pancake and pickles made by his mother at Lukou international airport in Nanjing, East China's Jiangsu province, on Feb 2, 2017. It was too big to fit in his bags . [Photo/mp.weixin.qq.com]
Like most Chinese festivals, food plays a big part in Chinese New Year celebrations. What isn't eaten during the seven-day Spring Festival, often ends up in the luggage of Chinese people traveling back from their hometown to the cities where they work or study.
Photos of parents squeezing as much homemade food into their children's suitcases or car boots as they can have been widely posted online as users reflected on the nature of parental love.
One user, named Jianghaibunixiaoliu, said: "Your suitcase is always filled up with food that your mother forced you to take. There is a kind of love that fear for you being hungry."
Another Internet user, named Wang Xiaoxi, said: "I carry more things with me when leaving than what I bring to my parents' home. My mother told me to take away whatever I want to take from home."
Many were moved by the generosity of their own parents.
One, named Xiaohan, said: "As a woman who marry far away from home, my parents came to my home to spend the Spring Festival with me this year. They brought to me a lot of hometown specialties and made many food in my home, stuffing the refrigerator to full. I told my mother that eating up all food, I will put on fat. My mother said that I can lose weight after she leaves. She will feel bad if she sees me losing flesh."
Viewing the photos posted online, Shuangyu commented: "I laughed when I see the photos and then cried."
Another, named Brother Qu, said: "I don't have a mother or father. I really envy you. Please cherish that love, even if it is a simple action of covering you up with a coat when you are sleeping. I will never experience that kind of warmth again!"