Ice and snow sit high on tourists' wish lists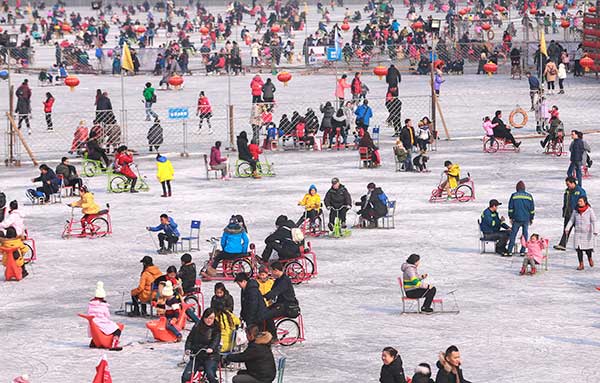 Tourists enjoy themselves at the Shichahai skating rink in Beijing on Friday, the first working day after the Spring Festival holiday.[Zou Hong/China Daily]
Winter destinations gaining popularity as Beijing prepares for 2022 Olympics
Despite winds and deep winter chills, snow-capped provinces and regions in the northern part of China saw quick growth in tourism during the Spring Festival holiday.
The China National Tourism Administration reported a record 344 million domestic visits paid by Chinese mainland travelers during the seven-day holiday, an increase of 13.8 percent compared with last year. Total tourism revenue reached 423.3 billion yuan ($61.6 billion).
The administration said ice-and-snow tourism is gaining popularity as Beijing gears up to host the 2022 Winter Olympic Games. For example, the Xinjiang Uygur autonomous region, which borders Russia, Kazakhstan, Afghanistan and other countries, accepted 15.1 million visits by travelers in seven days, an increase of 20 percent. Total revenue reached 1.61 billion yuan, up almost 22 percent.
Snow Town, a national forest park in Heilongjiang province, received more than 20,000 tourists on Jan 31 alone.
Xu Xiaolei, a China Youth Travel Service spokesman, said many regions have invested a lot in the development of winter sports and recreations.
"Previously, China didn't have competitive winter tourism destinations compared with countries such as Switzerland," he said. "Now the situation is totally different."
According to the General Administration of Sport of China, the country's top sports body, China has more than 200 skating rinks and 500 ski resorts spread across 25 provinces, and about 30 million people participate in winter sports and related activities. It also aims to build 650 skating rinks and 800 ski resorts by 2022.
Xu said ice-and-snow tourism is attractive to local tourists and those from the southern part of China.
"Tourists from southern provinces like to experience a chilly winter while those from northern provinces enjoy relaxing on tropical islands," he added.
The tourism administration said that besides Hainan province, provinces and regions in Southwest China also saw fast growth of sun-seekers during the holiday. For example, the Guangxi Zhuang autonomous region saw nearly 15 million visits, up 29.6 percent year-on-year.
Fan Xuguang, a publicity officer with online travel agency Ctrip, said travel has become part of the Spring Festival's folk customs.
Sun Xiaochen contributed to this story.