People who stayed on the job during Spring Festival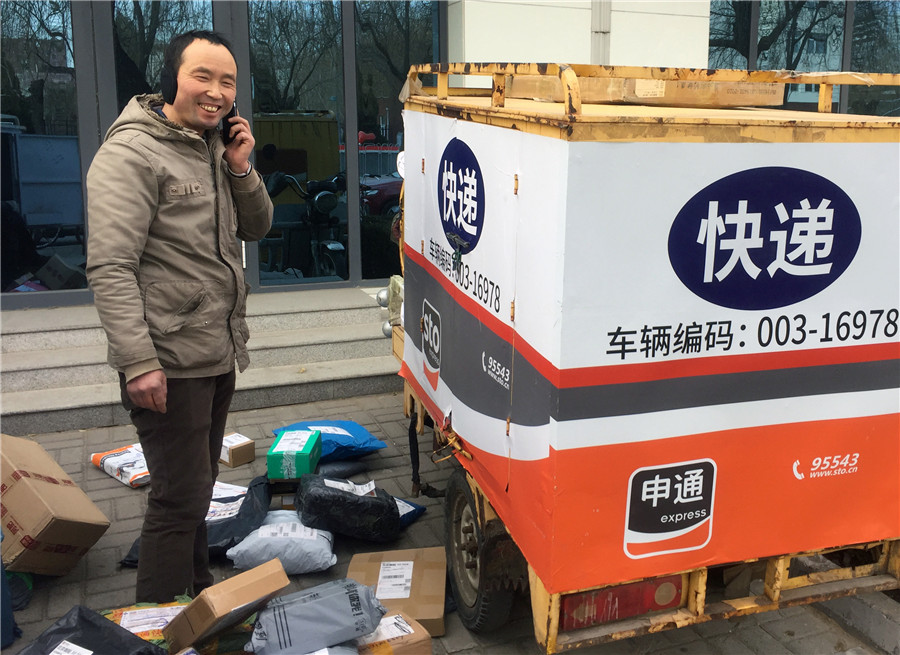 Ma Qinghui contacts a customer in Beijing's Chaoyang district. [Photo provided to China Daily]
Man dreams of Beijing's sights
Ma Qinghui, 41, had to stay in Beijing during Spring Festival after he failed to get a ticket to his hometown in Tonghua, northeast China's Jilin province.
"It is always difficult to buy a ticket during the Spring Festival travel peak when hundreds of thousands of people commute from where they work to their hometowns," he said.
An express delivery man in Beijing for almost 10 years, Ma said he planned to go back to his hometown during the Lantern Festival, which falls 15 days after the Spring Festival.
He has already bought some gifts for his family-some delicious meat for his 17-year-old daughter and some nice clothes for his wife and parents.
"I did not buy anything for myself," he said. "As a man, I am happy enough to see my family enjoying the festival."
After staying with his family members for about five days, he will leave them again for Beijing-as he has done repeatedly in the past decade.
The economy is the only reason to explain his absence-by working more than 10 hours a day without a weekend break, he could earn about 8,000 yuan ($1,150) per month-almost four times the average income in his hometown.
Although there is hardly any entertainment in his Beijing life, Ma said he enjoys the capital city, where he can have a promising income to raise his family hundreds of kilometers away.
Ma said his dream is to travel to scenic spots in Beijing, including the Forbidden City, the Summer Palace and the Temple of Heaven, where he has never been because of his busy job.
"I have to be responsible for my work as well as my clients since they are always waiting eagerly for the things they have bought online," he said, adding that the boom in e-commerce in recent years has made him much busier.