On The Road meets remote Evens tribe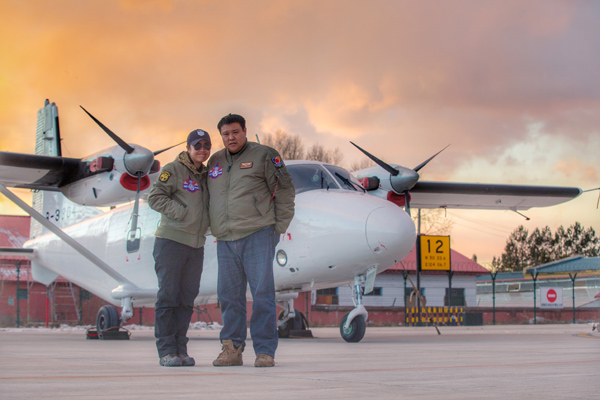 Zhang Xinyu and his wife, Liang Hong, with their twin-engine Y-12 plane before setting off on their trip.[Photo provided to China Daily]
A celebrity couple who plan to fly 80,000 kilometers around the world and visit people living in extreme environments have made their first stop.
Zhang Xinyu and his wife, Liang Hong, who host online travel show On The Road, set off from Harbin, capital of Heilongjiang province, on Jan 29 in a twin-engine Chinese-made plane.
On Friday, they began filming with the Evens, a nomadic tribe whose traditions center on hunting and fishing, in Poluostrov Kamchatka, a peninsula in the Russian Far East. 
To get there, they flew first from Yuzhno-Sakhalinsk, the capital of Russia's Sakhalin province, then drove against snow for almost 700 km before switching to a helicopter for final leg of the journey.
The couple say the new season of On The Road will also see them visit a primitive tribe in the Amazon Rainforest in Brazil, follow a narcotics unit in Peru as they destroy a secret drug laboratory in the jungle, and join soldiers in Cambodia to clear underwater mines from the Mekong River.
"I want my fellow people to know the world, and I want to document the kindness and the beauty of the world," Zhang said.
Zhang and Liang, who are traveling with a radio operator, four cameramen and an interpreter, plan to fly their Y-12, a twin-engine utility aircraft built by Harbin Aircraft Industry Group with a range of about 1,300 km, to North America via Russia. They will also visit the Mexican Plateau and Chile's Atacama Desert before heading to Antarctica.
Afterward, they plan to fly to Africa via Brazil, visiting Ethiopia and Kenya. The adventure will end in China in June after several stops in Southeast Asia.
"Many of the countries we want to go to are visa-free or visa-on-arrival for Chinese nationals," Zhang said.
Only about 200 people are thought to have completed a round-the-world flight, but it is the first time a Chinese-made plane has been used for such a journey, according to Zhang.
The couple ran several small businesses before starting On the Road in 2013. The show attracts many viewers on video-streaming website Youku Tudou.
The third season was filmed along the ancient Silk Road and saw them visit 16 countries, including Afghanistan and Iraq.