Boss makes 5,000 km trek to offer staff New Year greetings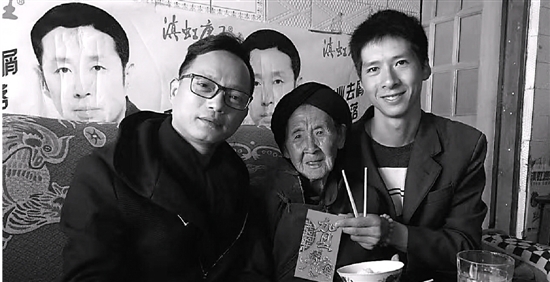 Lin Zhigang (left), the general manager of a leather company, visits Zhou Xiangcheng, one of his employees, and his grandma. [Photo/Qianjiang Evening News]
Lin Zhigang, the general manager of a leather company, trekked more than 5,000 kilometers to deliver New Year greetings to his employees in the far-flung countryside of hinterland provinces, reported Qianjiang Evening News.
Lin's company was created in 2004 and is based in Haining, East China's Zhejiang province. Lin said the company's workforce is largely made up of young people between 25 and 30 years old and most employees come from the same villages in Southwest China's Yunnan and Sichuan provinces.
"Our company does not hire workers in the job market because veteran employees bring over their fellow villagers, which makes for a stable workforce," said Lin, brimming with pride.
"Many young workers got to know each other and married within the company. And now there are dozens of couples in our company. We are like a big family," said Lin.
It is the second time Lin has visited employees in remote villages during the Spring Festival, the most important holiday on the Chinese calendar when families reunite.
Li embarked on this journey with his driver and the human resources manager on the early morning of the first day of the lunar New Year. Their first stop was Linshui county in Guang'an, Sichuan province.
After driving 17 hours, they arrived at the home of a long-time employee surnamed Wen where they were warmly welcomed. They had dinner together and took a group photo.
Throughout his journey, Lin was impressed by the hospitality of local families. He said regardless of anyone's resources, they served them the best food available.
He also saw the hardships of life in mountainous areas, where young people tend to go to cities to seek better-paying jobs, leaving behind the elderly and children.
Lin's final stop was a small mountainous village in Qujing, Yunnan province, where Zhou Xiangcheng, a 28-year-old quality inspection worker lives.
Zhou said the visit from his boss was something more precious than any material reward.
Having worked in the company for five years, Zhou married one of his fellow workers and now earns about 4,000 yuan ($580) a month, which enables him to "live a much better life than in his hometown".
Zhou said he dreamed of making roots in Haining and bringing his children to study there in the future.