A Greek woman's love for Chinese tai chi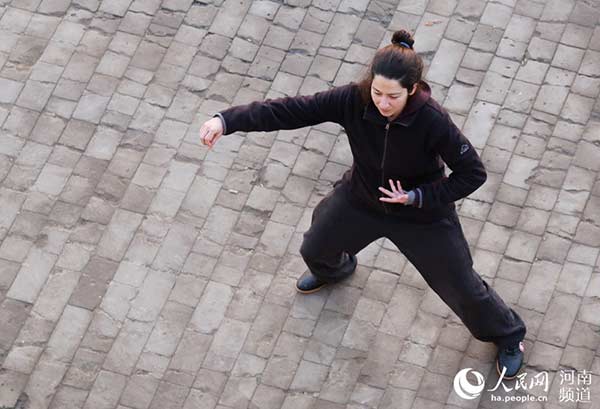 Maragopoulou practices tai chi in Chenjiagou, Henan province ]Photo/ha.people.cn]
Roza Maragopoulou, a 38-year-old Greek woman, has been studying Chinese tai chi for six years. She loves tai chi, and is determined to introduce this traditional Chinese exercise to more people.
Maragopoulou was a sickly child, often in a great deal of pain. She tried practicing yoga, karate and dance, but nothing worked. However, her life took a turn for the better when she first encountered tai chi.
Maragopoulou stumbled into a tai chi class while she was studying for her PhD in the UK in 2010. She felt calm and comfortable, and her life seemed to become more beautiful. To her surprise, tai chi has improved her health, while at the same time relieving her lifelong pain. Practicing tai chi has become an important habit for her.
In 2014, Maragopoulou left her hometown of Athens to study tai chi in its birthplace: Chenjiagou, in China's Henan province. She now spends several months of each year in Chenjiagou.
She began to offer her own tai chi training class in Athens last year.
"I have benefited a lot from tai chi. Therefore, I would like to teach more people to practice it in my hometown, and help more people benefit from the exercise," Maragopoulou explained.