Chinese tai chi helps older Londoners stay fitter: report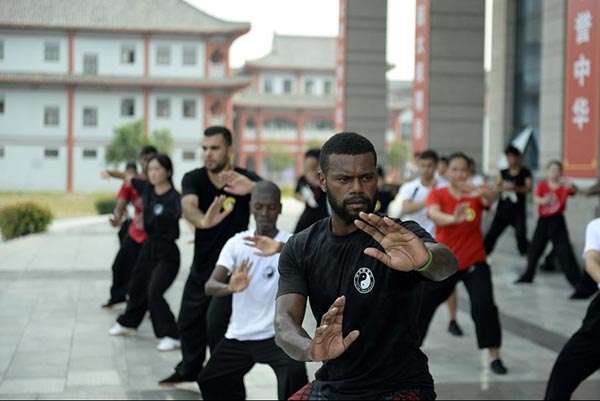 Foreign trainees from more than 20 countries practice tai chi at Tai chi Culture Int'l Exchange Center in Chenjiagou village, Wenxian county, Henan province, August 24, 2016. [Photo/Xinhua]
Chinese martial art tai chi has helped hundreds of older people in Britain's capital to stay fitter, a report by London Mayor Sadiq Khan revealed Tuesday.
A pilot scheme has seen the lives of hundreds of older Londoners transformed by getting active, the City Hall report found.
The Mayor of London's Get Moving scheme has been targeted at improving the health and wellbeing of older Londoners with community-based organizations-running free physical, social and creative activities.
With more than a third of older people in London living alone, the mayor's project was particularly targeted at isolated older people.
Get Moving activities included sessions of tai chi and yoga, as well as singing, dancing, gardening, photography and crafts, giving participants a chance to develop social connections with people of different ages.
A report on the five-month scheme, published Tuesday has found that those taking part in the scheme experienced less day-to-day pain and an increase in their ability to do daily tasks such as housework.
"By far the greatest benefit was reduced social isolation, with people making new friends and feeling engaged with their communities," said the report.
London deputy mayor Matthew Ryder said activities such as tai chi, dancing and gardening had made a massive difference to the lives of older people.
City Hall now plans to build on the success of the Get Moving pilot project to encourage more older Londoners to become active.
Related:
Foreign apprentices learn tai chi in Chenjiagou