Radiating courage: Doctors who brave radiation to save patients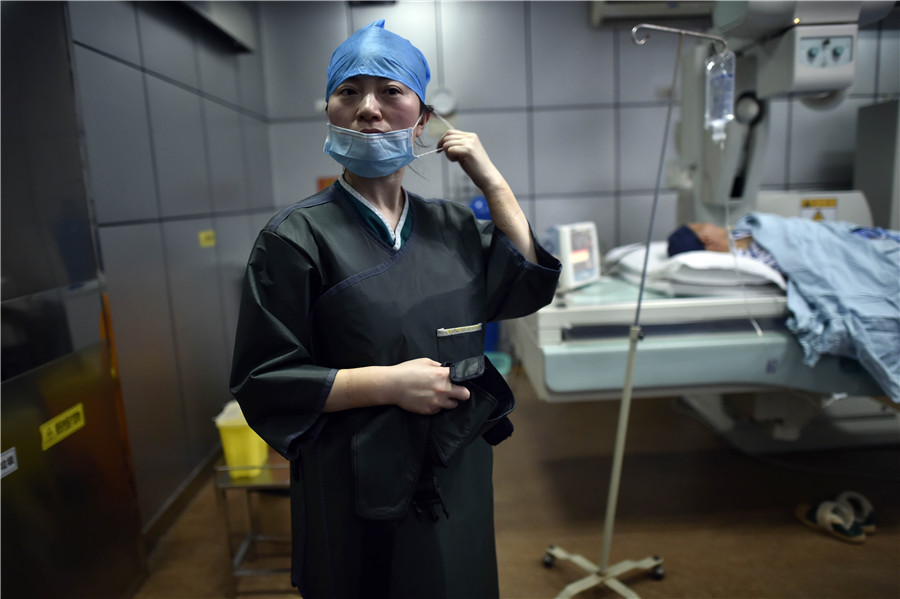 Liu Ya takes off surgical mask to catch a breath after operating an interventional radiology surgery. [Photo by Ran Wen/for China Daily]
While most doctors wear surgical gowns during operations, some of them must wear a heavy set of lead clothing and put their own life on the line by working under radiation to save patients.
This set of lead equipment, about 15 kilograms, includes a lead cap, glasses, collar, gloves, apron and even underwear. But the doctors' head, face, calves and arms are unprotected to help them operate easily during the operation.
Liu Ya, a 38-year-old doctor in the Imaging Department at Chongqing Cancer Hospital, is one of them. She needs to put on the whole set of lead clothing with a colleague's help, before finally putting on a surgical gown. The weight of the whole uniform slows down her walk.
"I am so worn out after each operation," Liu said. But usually she can only rest for about 10 minutes, then take a shower and put on a new set of lead clothing to prepare for another surgery.
Mao Mingwei, the director of the Imaging Department, said that wearing lead clothing is necessary for interventional radiology surgery. This type of surgery involves minimally invasive procedures under the guidance of radiographic techniques, which requires doctors to work under radiation.