Cities urged to prepare better for migrant inflow
Governments need to increase rural migrants' access to social services and improve environmental conditions to cope with challenges amid the nation's urbanization process, a senior official with the nation's top economic planning body said on Tuesday.
Xu Lin, director-general of the Department of Developmental Planning of the National Development and Reform Commission, said many cities are not yet well prepared to cope with the challenges brought by rural migrants.
With rising urban population density, major challenges include a rising level of air pollution, equal access to educational opportunities and high-quality and comprehensive healthcare for urban and rural residents alike, according to Xu.
The nation is aiming for an urbanization rate of 60 percent by 2020.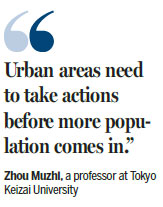 The figure was 56.1 percent at the end of last year, according to the National Bureau of Statistics.
Zhou Muzhi, a professor at Tokyo Keizai University, said that in order to cope with challenges, Chinese cities need to improve their performance in many aspects instead of focusing only on economic growth.
Zhou cited the example of Beijing, which outstripped its closest economic competitor Shanghai to rank at the top of 295 cities nationwide, according to the China Integrated City Index, which ranks cities according to economic and social development and environmental quality.
Despite relatively high economic performance, the city needs to make a lot more efforts to secure its ranking in areas such as the environment and social development, he said.
"Urban areas need to take actions before more population comes in," he added. "The trend of more population inflows to developed regions, such as Beijing, is irreversible."
Cities in China's three major urban clusters - the Yangtze River Delta, the Beijing-Tianjin-Hebei region and the Pearl River Delta - currently attract huge population inflows, according to Zhou.
Seventeen of the top 30 cities where migrants outnumber permanent residents are located in those three clusters, the index showed.
Co-compiled by the National Development and Reform Commission and the Cloud River Urban Research Institute, the China Integrated City Index, released earlier this month, is the first authoritative and comprehensive study of its kind.