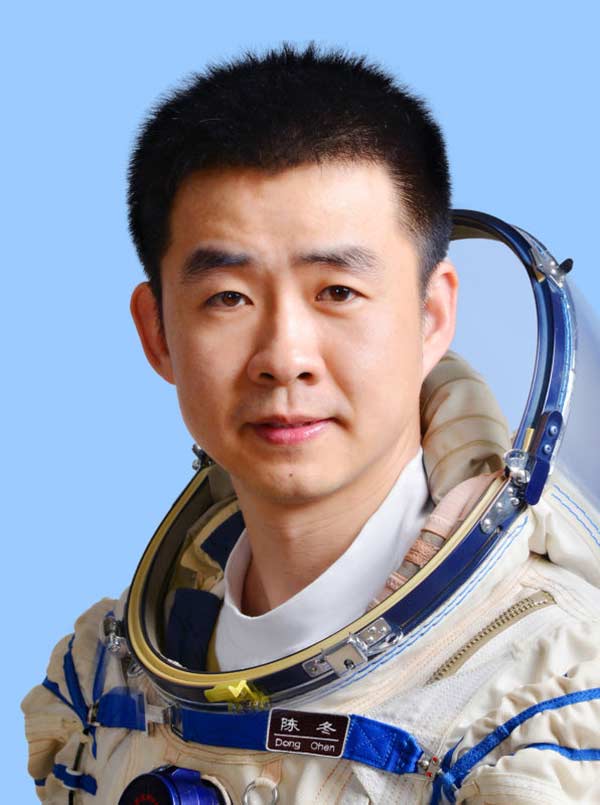 Chen Dong [Photo/China Daily]
Few would imagine Chen Dong, one of the two astronauts aboard the Shenzhou XI spacecraft, used to be a nerve-racking boy. In his own words, he was "quite mischievous" in his early years.
Chen, 38, was born to a working-class family in Luoyang, Central China's Henan province. When he was in grade three, he stomped and trampled on the vegetables in the school playground for fun with his buddies. The vegetables were a gift to the teachers from the school.
"I was very frightened after that," Chen recalled, but Yang, the teacher in charge of his class, took all the responsibility. Yang told Chen, "I know you didn't really mean it. But you have to know we teachers won't have any vegetables in the next few days. You have to think about others when you do such things."
Yang's tolerance taught Chen the sense of responsibility and further spurred his growth. "I began behaving myself, and I wanted to make the teachers happy." From a naught boy, Chen later became the class monitor.
He joined the PLA Air Force in August 1997. "If responsibility was what I learned from being a class monitor, I learned the soldiers' responsibility after becoming a member of the PLA."
Chen's story with the space started by chance when he was in middle school.
One day, he was lying on the ground looking at the sky along with his brother. "Is that a meteor?" Chen asked.
"No, it's a satellite."
Curiosity immediately gripped Chen's heart, and he began frequenting the library, reading books on satellites and space.
Thirteen years ago Chen's space dream was sparked again, when China's first astronaut, Yang Liwei, was carried aloft by Shenzhou V.
After he discovered that China's astronauts are selected among pilots, and that Yang Liwei used to be a combat aircraft pilot, Chen heard the calling.
The 25-year-old Chen was a combat aircraft pilot at that time. "I wanted to fly higher, and to find out how it would feel like when flying out of the atmosphere," Chen said.
In 2009, Chen was one of the candidates selected by China for its second batch of astronauts. Much to his surprise, it was Yang Liwei who interviewed him.
"The one-hour conversation with Yang made me firmly pursue my dream," Chen said. "What would it make me happier than being led into a team under the guidance of my idol?"
But it took another six years for him to finally make his debut when he took off aboard the Shenzhou XI spacecraft on Oct 17, 2016.
"It's like a combination of long-distance run and sprint, and you need perseverance and explosive force at the same time," Chen said.
During the six years, he secluded himself from the outside world and devoted all his time to pick up aerospace knowledge. In just two years' time, he passed all the exams of 58 major courses.
"The selection of Chen was inevitable," said Huang Weifen, deputy chief designer of Astronaut Center of China.
In Huang's mind, Chen almost excelled in every aspect. Chen was not only the top scorer from the primary selection to the final; his ability to achieve mastery through a comprehensive study of the subject surprised even the instructors.
While the space mission is daunting, astronauts have to be "good pilots", "good scientist" and even "doctors", "biologist" and "farmers". They even grow vegetables for experiments.
Along with Jing Haipeng, Chen completed more than 3,000 hours of training before the final launch of Shenzhou XI. "We cannot stop preparing until the last minute before the launch," Chen said.
Before heading out for the 33-day space mission, Chen said to his twin sons: "Dad is going out for a while. When you look up at the sky and see a shining star, I am probably there, and say hi to me."