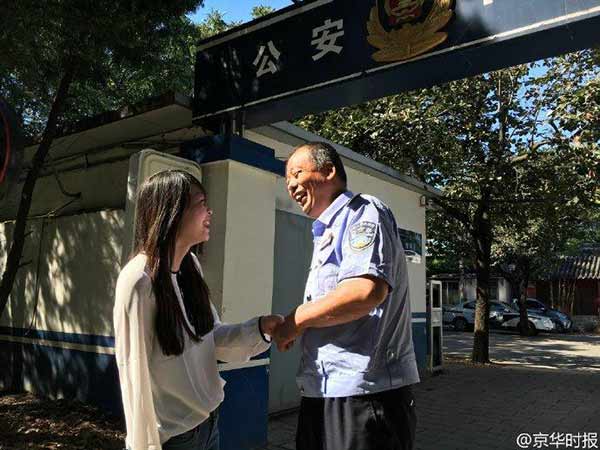 Cao Haofei and Hou Xiangwei. [Photo from web]
A 23-year-old woman came back to China from Texas where she lives, trying to find her biological parents who abandoned her 22 years ago, reported The Beijing News on Tuesday.
Cao Haofei, who now lives with her foster parents and two children in Texas, was found abandoned at the Temple of Heaven Park in Beijing in 1994.
A policeman, Hou Xiangwei, rescued the baby girl that chilly spring, noticing her right hand was covered by gauze. It turned out her hand was severely burned and soon Cao was sent to hospital and had her fingers amputated.
After taking care of the baby for five days and looking for her parents without any luck, the police sent the baby to a charity house. Five years later, Cao was adopted by a US family of four.
She has lived a happy life. Her foster mother works in special education and her foster father is in a band, and neither ever made Cao feel embarrassed about her adoption. They were proud of her.
Her foster father once said if Cao's biological parents knew how outstanding she is, they would be happy.
Cao loves China after a cultural trip here when she was 15. Since then, she came to China every year during her summer holidays.
Two years ago, Cao graduated from college and decided to live in Beijing to learn Chinese. Her foster parents supported her fully.
In May, when Cao and her friend revisited the Temple of Heaven Park and the police station that rescued her, they encountered Hou Xiangwei, the policeman who found the girl 22 years ago. Hou recognized Cao by her fingers, and was very surprised.
Cao told Hou, "I want to thank you. You are the man who held me up. You are my police dad."
She also expressed her wish to see her biological parents. "I would like to show my gratitude and ask about my birthday and my stories. I want to meet them."
Cao said it may be a long journey to find them but she hopes it can happen.