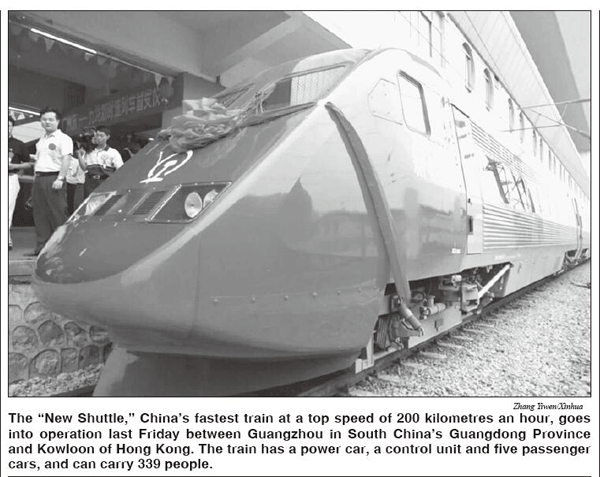 Item from Aug 31, 1998, in China Daily: The New Shuttle, China's fastest train with a top speed of 200 kilo-meters an hour, goes into operation between Guangzhou, capital of Guangdong province, and Kowloon in the Hong Kong Special Administrative Region. ... It can carry up to 339 passengers and crew.
China has the world's largest high-speed railway network, with more than 19,000 km of tracks in service. That is more than the rest of the world's high-speed rail tracks combined.
In May, the first Chinese middle-to-low speed magnetically levitated rail line began operating in Changsha, capital of Hunan province. The trains produce very little noise and occupy much less land than subways. It takes less than 20 minutes to complete the 18.5-km journey.
In August, the China Railway Corp announced that its China Standard bullet trains, also known as electric multiple units, have started operation in Liaoning province. The trains can reach a maximum speed of 350 km/h.
The trains use the latest exterior design, reduce energy consumption and adopt a standard parts design.
They have already found customers in Indonesia, Russia, Iran and India.
Construction of a China-backed 150-km high-speed link between the Indonesian capital Jakarta and Bandung began in January.